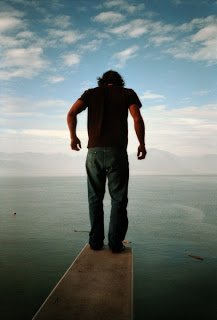 Somewhere along what is now the Sea to Sky Highway between Vancouver and Squamish lies a little secret spot photographer Tim Barber knows well.
It's a place with an unparalleled view of the ocean that his friends once took him to visit. There used to be a diving board on the edge of a cliff, set up by some kids. It's long gone.
Still, that place and the image Barber snapped there close to a decade ago will live on forever as the cover image for Elton John's new album The Diving Board, written with longtime collaborator Bernie Taupin and produced by T Bone Burnett.
The Diving Board will be released on Sept. 16.
The image features a young man standing at the end of a diving board set far above the ocean. Surrounded by fluffy clouds, with mountains barely peeking out of the fog in the distance, the man – one of Barber's friends – is looking at the calm waters below.
The shot is tense yet peaceful at the same time. There is a strangely plastic, surrealistic quality to it.
"It wasn't set up or doctored or anything," Barber said of the original image, which he released as Untitled (dive board) in 2004. "For the album cover, we did some manipulation to widen the frame. But the original photo was completely untouched."
The album cover touch-ups also removed some floating logs that appeared on the water in the 2004 image, giving the final image a striking tone reminiscent of Storm Thorgerson's work.
Thorgerson, who died in April, is famous for his contributions to albums by Pink Floyd (Dark Side of the Moon, Wish You Were Here), Led Zeppelin (Houses of the Holy) and, more recently, The Mars Volta (Frances the Mute) and Rival Sons (Pressure & Time).
It was Barber's friendship with photographer Ryan McGinley that led to his selection for The Diving Board. "Elton John is a huge collector," Barber said. "He may have the biggest private collection of contemporary photography. And he has collected a lot of Ryan's prints. And he hired Ryan to shoot his record cover in the past (for 2006's The Captain & The Kid), so that was the connection."
Barber, 34, described the call he received from Elton John as "insane."
"Elton John phoned me himself, which – speaking of 'surreal' – was really a surreal moment," Barber said. "He introduced himself and asked me about the image and talked about the idea of using it for the cover.
"They asked me to shoot additional images for the inside cover. So he sent me the album and I listened to it and that's how I got some inspiration for the inside, which you'll see when it comes out."
Barber was born in Vancouver of American parents working in northern B.C. He spent the first four years of his life here before his family moved to Massachusetts.
He came back to Vancouver in 1999 to study photography at Emily Carr before moving to New York City after graduating in 2003, working as the photo editor for Vice magazine for a few years. On the side, he created tinyvices.com, a photo website where he curated and hosted a number of photographers' work.
His work since has also involved portraits of actors like Willem Dafoe, fashion photography for Stella McCartney and others, and corporate gigs for high-profile clients like Nike, Casio, Nordstrom, Adidas and Club Monaco.
"I feel like those years were pretty significant years," Barber said of his time spent in Vancouver. "They're important years. I'll always identify with Canadian-ness even though it wasn't the majority of my life."
COMMENTS
There aren't any comments yet.
Comments are closed.