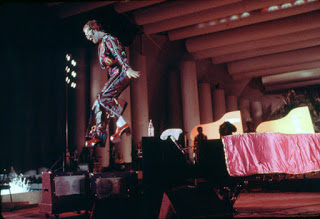 Rocketman, the Elton John biopic, is moving forward, with Good Universe coming aboard to handle international sales at the upcoming Cannes Film Market.
Rocket Pictures, John's film, TV and theater production company, will produce Rocketman, which is to be directed by Michael Gracey, who is also helming Fox's upcoming The Greatest Showman on Earth, starring Hugh Jackman, and Disney's The Muppet Man. The original screenplay is written by Lee Hall (War Horse, Billy Elliott). Steve Hamilton Shaw and David Furnish will produce, with John as executive producer.
Rocketman will tell John's life story, from his childhood as a five-year-old musical genius through his often-troubled life, to becoming a global musical icon.
"We're excited to be bringing this musical event movie to Cannes." Shaw, Rocket CEO, said. "It's bold, brave and inspirational. Good Universe has great commercial sensibility and we're delighted to have them represent us."
Joe Drake, co-founder of Good Universe added, "Much like the life of Elton John the man, Rocketman is the larger than life movie spectacle that brilliantly captures the universal struggle of self-love that we all face. Director Michael Gracey's vision for this movie is overflowing with everything that makes for great event cinema."
UTA Independent Film Group is representing domestic rights.
The deal was negotiated by Shaw for Rocket, which is repped by UTA, and Drake and Michael Meyer, EVP international for Good Universe.
COMMENTS
There aren't any comments yet.
Comments are closed.