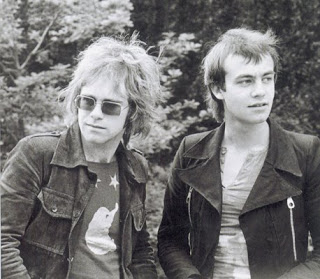 Songwriters Hall of Fame Chairman Jimmy Webb announced today that Elton and Bernie Taupin will be the 2013 recipients of the esteemed Johnny Mercer Award at the 44th Annual Induction and Awards Dinner slated for Thursday, June 13 at the Marriott Marquis Hotel in New York City.
Elton and Bernie have one of the most prolific and successful songwriting partnerships ever known. Their award-winning relationship spans four decades, with 35 Gold and 25 Platinum albums, 29 consecutive Top 40 hits and more than 250 million records sold worldwide. Elton attributes a great deal of his success to his songwriting relationship with Bernie. Together they have written nearly 400 songs and were both inducted into the Songwriters Hall of Fame in 1992.
Jimmy Webb said of the duo, "Some catalogs are more 'deep' and significant than others not only because of their pertinence to the times in which they were written, but because their sheer mass is overpowering. It's just not that easy to write 40 Top 10 records. It's kind of like swimming the English Channel with your hands tied behind your back. Elton's readily identifiable melodic piano style has proven to be a perfect accompaniment to Bernie's razor sharp lyrics about relationships and living on the edge of life both in good and bad times."
The Johnny Mercer Award, the highest honor bestowed by the Songwriters Hall of Fame, is exclusively reserved for a songwriter or songwriting team who has already been inducted in a prior year, and whose body of work is of such high quality and impact that it upholds the gold standard set by the legendary Johnny Mercer. Past Award recipients have included songwriting giants: Barry Mann and Cynthia Weil, Holland-Dozier-Holland, Paul Anka, Kris Kristofferson, Smokey Robinson, Stevie Wonder, Carole King, Billy Joel, Jimmy Webb, Hal David, Burt Bacharach, Jerry Leiber, Mike Stoller and Paul Simon.
COMMENTS
There aren't any comments yet.
Comments are closed.