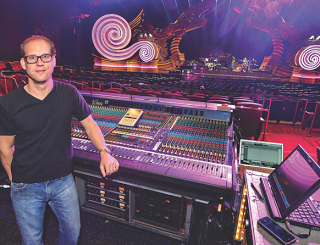 Elton John's Million Dollar Piano is exactly that: A singularly stunning instrument that successfully marries technology and art, and cost just that much to create.
As the name of the legendary performer's latest headlining act to take up residence at The Colosseum in Caesars Palace, The Million Dollar Piano runs two full hours, expanding beyond the core band heard during The Red Piano – his previous Caesars show – with a pair of cellists that give added verve to the early hits, four backing vocalists including Rose Stone of Sly & The Family Stone pedigree, and percussion avatar Ray Cooper, who has accompanied John on countless occasions for decades running.
Having established its own longstanding presence within Sir Elton's orbit over the years, Clair Global came to The Colosseum stage for Million Dollar to manage audio orchestrations, with company veteran Matt Herr taking charge at front-of-house and independent engineer Alan Richardson given the keys to monitorworld.
Utilizing a Meyer Sound house PA including left/right hangs equipped with eight M3D cabinets, a pair of arrays using three MSL-4 enclosures and a CQ-1 at the bottom, and twin MICA arrays hung 11 deep in the center, the show is further reinforced with eight MILO 120s covering additional seating, two M'elodie arrays serving as side fills, and a brace of MM-4 miniature front fill loudspeakers mounted on the stage lip.
Left on a relatively loose leash to define what's heard in the house, Herr concedes that "Elton is old school, there's no getting around that. He loves to feel the PA, the tightness of the low-end, his wedges are loud as hell. He feeds on all that. He never tells me what it should sound like, he just tells me to turn it up."
Deserving Of Analog
Guided by the tenets of solid musicianship and dedication to a common dynamic, John and his band are a collaborative entity that puts playing first, foremost, and above all.
Eschewing even the casual notion of using a click track, the group is as free-flowing as one of Sir Elton's pant legs as it flaps in the tempest of sonically-displaced air coming from his wedges.
The sum product of musicians of this caliber is known in many cases to cry out for the good old warmth of analog, and in this instance Herr heeded that call without any reservations. "That's the way I've always heard this music in my head," he admits. "In my estimation it just deserves an analog sound."
So it comes as no surprise when a pair of Yamaha PM5000 consoles are discovered at the house mix position. The main board, a 52-channel model, is supplemented by a 28-channel incarnation of the desk kept to one side at a 90-degree angle.
Outfitted with a dozen stereo channels used for John's MIDI'd piano as well as effects returns and band member Kim Bullard's keyboard rig, the big 5K is complemented by its baby brother, which is used solely to capture the myriad stage inputs arriving from Ray Cooper's sprawling percussion section.
Housing tympani, xylophone, marimba, tubular bells, chimes, roto-toms, congas, vibraphone, enough toys to satisfy the child musician in a dozen adults, and much more, Cooper's world leaves a sizable footprint within the 125 feet of horizontal space that the stage opens up with onto the audience.
All of the channels on the smaller desk are sent to a stereo out, then subbed into the 5K, where they can be controlled via a single fader and flown into a VCA. Herr then uses the big desk's mute groups to mute Cooper's input according to what he's playing or not playing.
A 34-space, two-sided rack provides the real estate necessary for effects, which among a number of devices, includes a TC 2290 for vocal delay and Klipsch harmonizers for background vocals.
"While there's a little 'verb and harmonizer on the backing girls, I use a Lexicon 480L on Elton's vocals," Herr explains. "A LARC controller mounted atop my main console gives me control of the 480L, which I also use on piano. With the LARC's presets I can quickly punch-up six or seven reverb times and delays and such, and on the piano I use a small hall setting that I don't change at all – it's just a set-it-and-forget it kind of thing."
Among his inserts, Herr maintains five gates on Cooper's tympani, and four more on his roto-toms. Still more gates spread across drummer Nigel Olsson's kick and toms. Arriving on the scene courtesy of a collection of vintage dbx 160 comp/limiters, compression is used somewhat sparingly on vocals, bassist Matt Bissonette's electric bass, and guitarist Davey Johnstone's acoustic guitar.
"I really don't rely on subgroups," Herr says of his mix strategy. "All of my inputs hit the stereo bus and then I just break them up under the VCAs. The desk has 12 VCAs, that's one of the reasons I wanted it for this show so much. I use 11 of them all the time – I send all the drums to one, the bass, guitars, Elton's vocals, boys' vocals, girls' vocals to others, and so on down the line right through the cellos and percussion."
While Herr is simpatico with the PM5000, he also had the opportunity to mix John on a new Yamaha CL Series digital console at the Yamaha 125th anniversary celebration held at Disney's Hyperion Theatre during the recent NAMM Show in Anaheim.
"I enjoyed using the CL; in fact, when we have solo shows with Elton like this event, it will be my desk of choice," Herr states. "The CL is very user friendly and sounded really good, in my opinion. The Neve inserts sounded fantastic; I used one of the compressors on Elton's vocal. Normally, I use an outboard compressor, but this one worked quite well."
The Million Dollar Piano's input list takes a democratic approach to the matter of microphone selection, spanning its stage plot with everything from a hardwired Audio-Technica AE6100 at John's vocal position to Sennheiser 421s at various points for drums and percussion, AKG 460 on ride cymbal, AKG 414s on overheads, Shure SM57s on snare top and bottom, and Beta 52 on kick.
Countryman was the DI of choice for bass and Bullard's keys, while guitarist Davey Johnstone miked his electric guitar cabinets with both Sennheiser 409s and 609s, which are used selectively as needed.
Good Kind Of Loud
Four years went into the building of the highly-modified CFIIIS Yamaha grand piano that earned its Million Dollar name prior to Sir Elton simply calling it "Blossom." A visual treat and sonic masterpiece, the instrument is equipped with its own video display on its audience side that manifests colorful graphics and imagery with amazing definition.
At any given moment, you may see anything from Versace-inspired designs to video footage of past performances and ambience-enhancing expressions matching adjacent scenery or lighting effects.
Pushing the scales at nearly 2,000 pounds, the Million Dollar Piano stays put at Caesars, moving in-and-out on a lift in accordance with his dates at The Colosseum. Four stereo MIDI modules – two of them active all the time – are used to create the huge sound that comes out of the instrument.
"With our MIDI configuration, I can really fatten up the sound when he lays into the keyboard with his left hand," Herr says. "The sound is super tight and it hits you in the chest like a kick drum. If I spread my Eventide Eclipse harmonizer across it too, it gets even more impressive. The sound of the strings really comes out. You get so much more than what we all expect to hear from a piano, even if it is a million-dollar one."
No mics are used on Blossom, which is a good thing really, because the stage volume around the piano is so loud that their presence would only promote unwanted bleed. For the record, the source of all this unbridled gain is a collection of Clair 12 AMS wedges.
"I use two stereo mixes for Elton," relates monitor engineer Richardson. "The first runs through a pair of single 12 AMS wedges, and is just his vocals and vocal reverb return only. Nothing else goes in there. I use a pair of double-12 Clair AMS wedges for the second stereo mix, and it's for a band mix including his piano. If there's anything truly characteristic of Elton's mix, it's the fact that it's loud. It's always been like that, and he wants it that way. He has a history of blowing up studio monitors, headphones, wedges, you name it."
A historian of monitoring trends in the business, Richardson has carefully charted the progression of John's escalating use of sonic horsepower onstage and applied lessons learned to his own strategies in use today.
"I took this job 17 years ago," he notes, "and at that time they were using S4s. With the backlash you got off of those cabinets onstage, you had to adopt a piercing, high-end sound in order to hear yourself. As we moved away from S4s, however, Elton still thought he wanted to hear this wailing, high-pitched sound onstage, but he really didn't need to anymore. What he thought he wanted to hear wasn't necessary.
"I took it as my task to slowly draw him away from the needs of his past, and I've been successful to a large degree. Now it's still loud, but a good kind of loud. Not an annoying rip-your-head-off loud."
The Real Art
Working from a Yamaha PM1D, Richardson does all of his cueing on headphones, this to provide him with the advantage of hearing feedback before John does, and also because it gives him a chance to react quickly if things are getting too loud in the house.
"When it's getting loud in the house it creates this umbrella effect that starts enveloping the stage," he explains. "When that starts happening, I can hear it immediately in my headphones, and I can call Matt out front and ask him to pull it back 2 dB. That'll make all the difference in the world, and then we're not battling each other. If it doesn't get turned down out front, then I'd have to turn the stage up, and it would be all downhill from there."
Beyond the full-frontal wedge approach, most of the remaining stage is on in-ear monitoring, with band members each giving expression to their own preferences on earbuds. Sennheiser G3 wireless systems handle transmission and receiving chores.
Back out front, Herr notes that all things loud considered, it's still a joy working with the "handcrafted" old school, organic sound emanating from the stage. "For what we do it would be a shame to take it out of the analog world," he adds on a parting note. "A lot of people see my gear and say 'what the hell, you're pretty young to be using that stuff' [Herr is 38]. But this is my 20th year at Clair so I've been doing this long enough, and know a lot of the people who pioneered this route.
"I think a lot of times the digital world takes the fun out of mixing. You become more of an operator. This band never plays a song the same way twice. You have to be on your toes constantly, moving faders and keeping pace with everything transpiring on stage. This is a place to practice the real art of live sound."
COMMENTS
There aren't any comments yet.
Comments are closed.