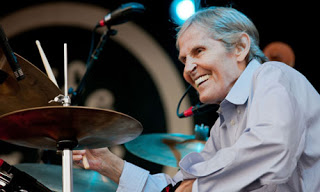 Elton John, Mumford & Sons, T Bone Burnett, Mavis Staples, Zac Brown and Alabama Shakes singer Brittany Howard will honor Levon Helm at the Grammys.
The musicians will collaborate on an all-star version of "The Weight" at the awards ceremony on Sunday. Both Brown and Mumford & Sons collaborated with Helm during his final years while Burnett and Staples worked with the singer/drummer as part of The Band (as well as during his solo career). Helm has long been the rumored inspiration for John's hit song "Levon."
The tribute will take place during the part of the night which honors musicians who have died in the past year. The Grammys will take place at the Staples Center this Sunday.
COMMENTS
There aren't any comments yet.
Comments are closed.