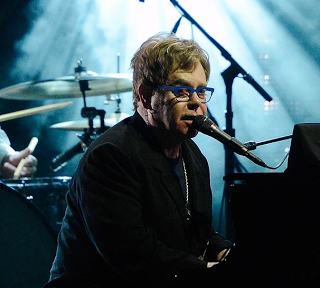 The power of Bruce Springsteen reached beyond the musical Friday night when he was honored as the MusiCares Person of the Year at the Los Angeles Convention Center. Before he even hit a note or anyone sang any of his songs, Springsteen made his voice heard early on during an auction of an autographed guitar.
The thrill, theoretically, was that the guitar would be passed among the stars in the audience and as they were signing it, the bidding would sky rocket. It seemed to jam up around $70,000 after Katy Perry, Emmylou Harris, Tim McGraw and a few others had scrawled their names on the blonde Fender.
Springsteen took a hold of the axe and the microphone and started dealing. First he offered an hourlong guitar lesson. That sent the bidding into six figures. Then there was the ride in the sidecar of his Harley Davidson. Somewhere along the way, the pool of prizes grew to include some concert tickets, backstage passes and a lasagna cooked by Springsteen's mother, who was in attendance and didn't appear to put up a fight over his offer. The winning bid, to an overjoyed woman from New Jersey, was $250,000.
Magical as Springsteen was in that moment, it paled next to his thoughtful and passionate speech at the end of the night when he accepted the MusiCares person of the year trophy from Recording Academy CEO and president Neil Portnow. The night was hosted by Jon Stewart of "The Daily Show."
Springsteen consistently referenced musicians and the way they are a bit off when it comes to the rest of society. "They're always in search," he said. "Born to get lost and suddenly you're home.
"We want to be great. We want to be important in your life. That's all that mattered to me, You keep us in search of the force that reignites our gifts."
Prior to his five-song set, 15 of his songs were performed, ranging from a banjo-driven, campfire performance of "I'm on Fire" from Mumford and Sons to an exhilarating guitar exercise on "Ghost of Tom Joad" by Jim James of My Morning Jacket and Tom Morello, the Rage Against the Machine guitarist who has been touring with Springsteen for the last several years.
"John Legend made me sound like Gershwin," Springsteen noted. "Neil Young made me sound like the Sex Pistols. Tonight made me proud to be a musician."
Before Springsteen strapped on his Fender Telecaster to romp through two tunes from his Grammy-nominated "Wrecking Ball" and three classics, the evening favored the softer side of his catalog.
Kenny Chesney kept "One Step Up" barren and exposed, a perfect treatment that illuminated the greatness of the song's lyrics. Contrast that with Legend's magical take on "Dancing in the Dark," rich with personal investment that amplified the song's holding ground between romantic availability and emotional absence. James and Morello took "Joad" into a guitar shredder's paradise and generated a standing ovation, a response that followed performances by Jackson Browne, Patti Smith and Mavis Staples as well.
When Springsteen came to the stage, several E Street Band members joined the house band that already featured guitarist Nils Lofgren. Max Weinberg came in on drums with Roy Bittan on keyboards, Gary Talent on bass and Springsteen's wife Patti Scialfa on rhythm guitar. Smiles all around, the night closed around 1 a.m., the audience and ensemble having relished the opportunity to sing "Thunder Road," "Born to Run" an "Glory Days," one after the other.
MusiCares Set List:
Alabama Shakes, "Adam Raised a Cain"
Patti Smith, "Because the Night"
Ben Harper, Natalie Maines, Charlie Musselwhite – "Atlantic City"
Ken Casey (Dropkick Murphys), "American Land"
Zac Brown and Mavis Staples, "My City in Ruin"
Mumford and Sons, "I'm on Fire"
Jackson Browne and Tom Morello, "41 Shots (American Skin)"
Emmylou Harris, "My Hometown"
Kenny Chesney, "One Step Up"
Elton John, "Streets of Philadelphia"
Juanes, "Hungry Heart"
Jim James and Tom Morello, "Ghost of Tom Joad"
John Legend, "Dancing in the Dark"
Sting, "Lonesome Day"
Neil Young and Crazy Horse, "Born in the USA"
Bruce Springsteen, "We Take Care of Our Own," "Death to My Hometown," "Thunder Road," "Born to Run"
Ensemble, "Glory Days"
– BillBoard
COMMENTS
There aren't any comments yet.
Comments are closed.