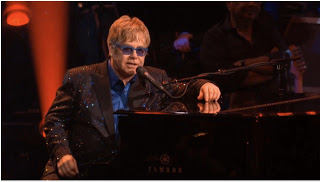 It's the sort of eclectic hodgepodge you usually only find at disaster-relief benefits, Kennedy Center tributes and Olympic ceremonies. Friday night it was next door to the NAMM convention in the Arabesque Hollywood corner of Disney California Adventure, where kids normally see the "Aladdin" show.
The occasion: the 125th anniversary of Yamaha, the Japanese corporation that is, among other endeavors, the world's largest manufacturer of musical instruments, renowned for its superior, rich-sounding pianos.
As it has before during this party-filled part of January in and around the Anaheim Convention Center, the conglomerate chose to celebrate its latest birthday inside the Hyperion Theater with a star-studded array of sponsored talent, most of them supported by a magnificently massive orchestra (at times led by noted film composer James Newton Howard) and a house band of aces, led by bassist and overall director Nathan East.
They backed up nearly four hours of entertainment, with a ballyhooed technological marvel of an appearance from Elton John atop the bill. Of course, that didn't occur until after 11 p.m., by which time a captive audience of execs and partners, showroom dealers and junior-high band schoolteachers – few of whom ever got up to visit the restroom – had patiently sat with the house lights up through nearly a dozen other two- to three-song sets.
Some of them were quite good, particularly two Yamaha roster spotlights with whom most of the crowd was unfamiliar. L.A. singer-songwriter Lucy Schwartz's duet with Landon Pigg on the Aimee Mann-ish "Darling I Do" outshone most of the well-tread material the evening's veteran artists served up. And power trio Leogun, a find from Sir Elton's management team, produced a highly credible facsimile of what used to get called boogie-rock back in the early '70s; these days you'd say they're a cross between Wolfmother and the Darkness.
No one delivered anything less than their professional best, apart from perhaps Chaka Khan, who shimmied about in a skin-tight bodysuit (impressive for someone about to be 60) and belted a few big notes, but otherwise slurred and halted her way through "Tell Me Something Good" and "I'm Every Woman."
Earth, Wind & Fire opened, with irrepressible bassist Verdine White fired up from the get-go, although sky-high vocalist Phillip Bailey could have done with more warm-up time before scaling the heights of "Fantasy" and "September." Amy Grant, in an infrequent O.C. sighting, turned in a pleasing trio of catalog favorites, including "Baby Baby" and her satisfyingly straightforward take on Joni Mitchell's "Big Yellow Taxi."
Dave Grusin and Lee Ritenour raised the level of musicianship with a piece that began as a starkly lovely Grusin solo and built into a jazz-fusion jam with shades of sing-what-you-like African spiritualism. And speaking of "Africa," Toto was on tap, dishing out (overly) lengthy renditions of its three biggest hits, including "Rosanna" and "Hold the Line." (Jackson Browne and Yolanda Adams were no-shows, by the way.)
But the crux of the evening – the reason it was worth waiting through host Sinbad's hit-and-miss off-the-cuff humor and a time-killing parade of amateur singers invited to the mic by David Foster – came with three piano performances that not surprisingly rose from strong to stronger to strongest.
Michael McDonald was up first, nearly nailing the soulful highs of two Doobie Brothers staples, "Minute by Minute" and "What a Fool Believes," strings and horns punctuating both. Then he let backing vocalist Anita LaFontaine shine on the Motown duet "You're All I Need to Get By." Awards-show solid.
Sarah McLachlan almost stole the night from the headliner, as her three ballads – "Adia," "I Will Remember You" and "Angel" – were not only exquisitely sung but deeply enriched by the orchestra, swelling subtly when needed. (She also got the funniest line out of Sinbad: "I have 75 stray dogs now. All of them have one eye.")
But everyone had come for Elton, who finally strode on in blue-tinted shades and similarly hued coat covered with more sparkle than three of Chaka's get-ups stitched together.
Without saying a word he eased his way into "Your Song," made brief comments commending Yamaha's artist outreach before robust versions of "Tiny Dancer" and "Sorry Seems to Be the Hardest Word," then ditched the orchestra for two final solos, masterfully executed variations on "I Guess That's Why They Call It the Blues" and "Rocket Man," the latter in the manner you often hear at his "Red Piano" shows in Vegas.
Thing is, what was also happening at that moment elsewhere around the world was a demonstration we couldn't see. Via Yamaha's DisklavierTV and RemoteLive technology, Elton's every effortless triplet flourish and forcefully nuanced rumble of bass were transmitted in real-time to venues from here to Hong Kong housing monitors (so people could see Elton) and actual pianos re-creating his moves (so they could hear Elton).
Who were at all these other locations, where it was either the middle of the night or time for breakfast tea the next day? Frankly, I picture hundreds of Yamaha dealers in the Far East gathering around nine-foot grand pianos marveling at their own merchandise as it magically plays a half-hour of Elton John music.
I don't know for sure because watching it inside the Hyperion, as it must have appeared on the live stream online, you had to use your imagination. There were no monitors reflecting back to us the wizardry occurring elsewhere, as there should have been if they'd really wanted to display something unprecedented.
Instead, Yamaha got all the wow this room needed out of its graciously low-key star. Even when grinning like he's doing a desultory favor for the people providing his 88s, he still plays like a barrelhouse virtuoso.
You should have seen the stone-faced reverence from the half of the house band and strings section that had a clear view of his hands (hardly anyone else did). That version of "Call It the Blues" was so note-perfect yet fully enlivened, it would have been worth waiting five or six hours for. In Cars Land lines. In summertime heat.
Set List: Yamaha's 125th Anniversary Concert at the Hyperion Theater, Anaheim, Jan. 25, 2012
Earth, Wind & Fire: Fantasy / Boogie Wonderland / September
USC Trojan Marching Band: Fight Song > Tusk > Exit music
David Foster: 1988 Winter Olympics Theme
Chaka Khan: Tell Me Something Good / I'm Every Woman
Lucy Schwartz: You Are / Darling I Do (with Landon Pigg)
Amy Grant: House of Love / Baby Baby / Big Yellow Taxi (Joni Mitchell cover)
Leogun: Let's Be Friends / There's Just No Way
Dave Grusin with Lee Ritenour: Grusin solo > Jazz jam (title, anyone?)
David Foster with Dave Koz: Love Theme from St. Elmo's Fire
Toto: Rosanna / Africa / Hold the Line
Michael McDonald: Minute by Minute / What a Fool Believes / You're All I Need to Get By
Sarah McLachlan: Adia / I Will Remember You / Angel
Elton John: Your Song / Tiny Dancer / Sorry Seems to Be the Hardest Word / I Guess That's Why They Call It the Blues / Rocket Man
COMMENTS
There aren't any comments yet.
Comments are closed.