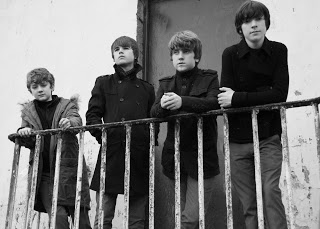 Elton John was among audience members at a tiny pub gig for hotly-tipped Irish newcomers The Strypes tonight (December 16).
The pop legend turned up at the 100-capacity Fitzherberts pub in central Brighton to watch the band as they played a 5:30pm show to a small number of fans. He arrived with an entourage of security staff before hanging out at the venue's bar ahead of their performance.
The Strypes, who hail from Cavan in Ireland, recently signed a record deal with Mercury Records – the same label on which John remix album with Pnau, 'Good Morning To The Night', earlier this year.
John isn't the first musician to watch The Strypes recently – Paul Weller, Miles Kane and Jeff Beck have all been spotted at their gigs, which usually see them play an array of 1960s R&B covers alongside a few originals penned by the band themselves.
With all four members aged between just 14 and 16, they've appeared on Ireland's Late Late Show several times in the past year.
COMMENTS
There aren't any comments yet.
Comments are closed.