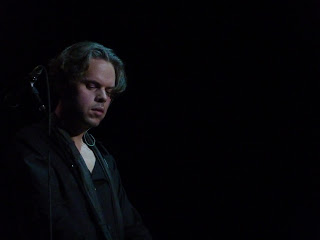 Just hours after this post went up, Elton John finished a concert in Sydney that included a mini-set with Australian pop duo Pnau. Those two musical forces joined on an album this summer, Good Morning to the Night, where Pnau remixed older and more obscure Elton cuts. The effort went number one in the U.K., and recently saw an American release.
It's been a whirlwind week for Pnau's singer/producer, Nick Littlemore. Just before his trip back home to play with Elton, he attended the premiere of Zarkana, the new Cirque du Soleil production at Aria, replacing the ill-performing Viva Elvis. Cirque approached Littlemore in the hopes of having an edgier, more rock/pop-based score for its latest show. After nine months of courting, Littlemore officially became the show's score composer and music director. He's also half of Empire of the Sun, the flamboyant alt-pop act that performed at Electric Daisy Carnival in 2011.
Before the show's premiere (you can read our experience that day here), Littlemore spoke with CityLife about his Zarkana duties, his relationship with John, his desire to play Caesars Palace's Colosseum, and the upcoming albums for both Pnau and Empire of the Sun — the latter which he actually played for us.
CityLife: You're due in Australia next weekend for Elton John. That's a lot of travel.
Nick Littlemore: I live in New York. Flying to L.A. and straight to Sydney. We're doing TV that day — X-Factor with Elton — and then four days later the show with Elton. It will be a jet-laggy week!
Is this the last promotional work you'll be doing for Zarkana now that it's in its residential home?
I think it'll be kind of ongoing. I'm in the process of doing the record for it, so I'll be coming back and doing some stuff for that. The record will be pretty cool.
How did Cirque dul Soleil contact you?
I was in Australia, though I was living in London at the time, and my manager — who is also Elton's manager — I was sending him songs, because I write a lot anyway, not just for Empire or Pnau or Teenager. So I sent him some stuff, and it was more filmic, I guess, and he said, I just met with these people, talking to them about a show.
When I came back to London for the next week, I put together a 15-piece band, I think, of gypsys, vikings, illegal immigrants (laughs). I didn't really have any money and couldn't promise them anything. We all got into a room and it was very a [Phil] Spector feeling and I stayed up all night and wrote all the songs that day, with everyone in the room and made this terrific noise. They flew me out to Montreal to meet [Cirque] people, and there was a courting process about nine months. I had a band every week, where I could blow lots of money and have loads of fun! Eventually, it felt like I had the job.
The Empire of the Sun live shows are quite theatrical, and employ costumes, not too far off from Cirque du Soleil. Are you drawn toward a more whimsical, fantastical presentation of music?
Yeah. For me, musically and visually, the world is much more interested in things that are extraordinary. That was the initial idea for Empire of the Sun: I wanted to create something that, if I was a 13-year-old kid, I'd believe in it. So many bands at the time, and still now, are just people staring at their shoes wearing shitty flannel vests. It's boring. I want magic. I want [David] Bowie. Every generation deserves their own intergalactic star. Obviously, with [Empire singer] Luke [Steele], we had that.
I didn't know much about Cirque. I'd seen one show when I was, like, 17, in Australia. Then going to Montreal and seeing them, this was a huge corporation; there was like 1,500 people working there. It was crazy. It's like a madhouse, a professional madhouse! It's like art brut, but taken so much further.
Had you done soundtrack work before? Were you ever writing music to some visual accompaniment?
No. We worked the opposite way with Empire. We'd written half the record, sat down with Luke and we wrote the narrative for a screenplay — which we never got to make because the record company, and that's another story. But we like having narrative, and music is very visual anyway. I'm not classically trained, everything is color, and that's how I compose.
How many times did you have to meet with the performers and art directors to get a good idea of what direction to go? Travel for you must be a pain.
I was living in London, so it wasn't so bad, maybe nine hours. Cirque was nice to fly me business, which I did for the first time in my life! It was pretty cool, and I would pop over for these long meetings, all completely in French — I knew three words — but they were interesting meetings, and they were talking about hydraulics, I think, and shit like that. I'd have five minutes at the end of the week and I'd play tripped out music very loud, and they'd close their ears! No, the director [Francois Gerard] was incredibly generous to me. Seeing his films was a huge inspiration, especially Glenn Gould … it's mindblowing. I think it's underrated.
Did you listen to other Cirque scores, for the sake of precedence or comparison?
They flew me out here and I saw all the shows, and then I went to Tokyo and saw the show there. I saw a number of them in Montreal. But I'm not good enough a musician to be able to copy anyone. I can't sit there and hear the song and, oh, it goes like that.
So I wrote over 100 songs for this. I wasn't listening enough, I was just writing and writing. I like to write a lot anyway, so it made sense. It took me a long time to learn how to write for performance, especially for things like trapeze. The music needs to be malleable, be different lengths. I pretty much come from acid house and techno. It's four bars; sometimes it's one bar. And this was very different. Some songs had 20 different sections. Pop songs have, like, two. So this was fun.
Are you on the hook for more music if Cirque wants to ever add more numbers to Zarkana?
Yeah. Once we came into this setting, there was like three new songs. The third hasn't been used yet. It never ends. The tricky bit is getting back into the headspace.
Do you play the older music to get you back there?
I try not to. I don't know. I thought about the desert a lot. Coming from the Empire record, which is Ecstasy music, it's very different to come back here.
How big of a deal is this Elton/Pnau show for you? How will Pnau be incorporated, seeing how he's already got a band?
We just did [an album] in the summer, it came out in the UK and went number one, which was pretty great. And we did a show in Ibiza together. We were wearing these caftans and Elton was like, um, you're wearing that?! We wanted to look like the weirdest people ever playing with Elton. I think this time we'll be very subdued. I play weird sounds, and I basically sing with Elton.
Any chance Pnau will crash one of his Vegas shows if the Sydney set goes well?
[Eyes open wide] I would love to play with him at the Colosseum!
Oh, you like that venue?
Um, yeah! I think it would be really fun. Every time I see him, I try to [convince] him into doing another show. The record just came out in the States. It's fun … and it's cool. You're playing with one of the greats.
And you get to play about five or six songs with him?
Yeah, six.
Pnau is not strictly a dance act, but a dance-oriented pop act you can still hear on the dance floor. Does the massive club scene in Las Vegas, or even the emerging EDM scene in America, interest you as a producer of rhythm-friendly music?
It's a trip because I haven't made dance records for quite awhile. I started out doing that, and I made some music from one of the guys from Underworld [Darren Emerson], and the dance records that I hear now … I can't force myself to do something I can't do. I don't know, I think having done this and writing with Elton, I'm so much more interested in writing melody. I guess maybe it's my age. I like softer music. I don't go out. I like restaurants. I like opera and shows, stuff like that.
Although having said that, we're about ready to bang out a new Pnau record in Sydney, which is going to be super-aggressive.
So if America gets off its Dutch trance kick, maybe that's something that could be played in our clubs.
(Laughs) Yes, that would be cool.
I really liked the last record, Soft Universe, but it interests me that you say it will be more aggressive. Will it be more sort of banging?
Yeah. We had a song called "Embrace" awhile ago with the singer [Pip Brown] of my other band, Teenager. She went on to do Ladyhawke. And I think we're going to snag her to do the vocals for the record. I love her voice; she's so talented. So we're going to make it super-aggressive, and then have this beautiful feminine spirit over it. But it won't sound like Dutch trance. I just don't know how to do that shit anyway!
Any updates with regards to Empire of the Sun?
Yes. My laptop just ran out of batteries, but I have the [new] record here. Well, I have nine of the songs here. Do you want to hear some of it?
Oh my God, yes.
We're still working on it. We just spent a month in Santa Monica, and a month before that in New York. It's ongoing, but I think we'll be finished by February. We're working with JJ Abrams, he's going to be doing the film clips and stuff, and we've been writing the script and shit.
So this one will have a film?
It will have four or five videos. I'd love to make a film, it's all I've ever wanted to do … but we don't do want to do, but we do what we're allowed to do. Sounds pretty good, the record.
You'll have three records out in a year's time.
I want to have Zarkana to come out before Christmas, if we can somehow manage it. With Empire, dates get moved around like crazy. We wanted to put it out this year, but it just wasn't ready. You can't wait four years and then put out the wrong record. Luke is very particular about that and if he's not feeling the right energy, his voice won't respond.
Are you a workaholic?
Yeah. The thing is, once I met Elton, a lot of people thought, I was set and I had all this money. But that's bullshit. What he gave me was an opportunity to start working. I will work as much as I can; the music business is fucked, and one day you're just not going to get a phone call any more. I'm just trying to do as much as possible in the hopes I'll survive, because the day I run out of money, I'll jump off a building. What the fuck do I do if I can't be creative? I'll try to write a novel. But I don't have any time!
You write, too?
I think if you're creative, you can do anything. If you're a writer, musician, painter, you can always lend your skills to other things. It's all how you perceive the world. And a lot of blagging. That's most of my career — just lying through my teeth!
– Las Vegas City Life
Sir Elton John was in the midst of tackling five projects when Cirque du Soleil approached him to create the music for its new Strip spectacular "Zarkana" at Aria. The British-born superstar thought the only man capable of the task was Australian musician Nick Littlemore.
"It took 3 years, 100 and something songs and a hell of a lot of gray hairs," Nick told me opening night last Friday. "He said I could do it, which I thought was the biggest compliment. He knew how much work it would be, but I had no idea. Fortunately, music keeps you young. It might change the way you look, but it keeps you young.
"Elton has heard all my music, but he hasn't been able to come to the show because he is always in the wrong bloody town. He will be coming back to Las Vegas in February, and now we are a resident here; he will see it and hear it for the first time.
"Elton has been such a huge supporter of mine, and he has really changed my life. We made an album together. We continue to work together, and he hears everything that I do. I felt like I never could do anything like this, but to have the belief of someone like him, it empowers you beyond your wildest dreams.
"He told me 'Congratulations' and gave me a big hug. He said just keep going, you've got a long life, and you are going to do a lot of amazing things."
I asked Nick how loud he'd made the loudest of all the Cirque shows.
"It's a rock show. It definitely packs a bigger punch," he said. "I don't know in terms of decibel how much louder it is, but it is still palatable to the ears and the seated audience. It is definitely more aggressive. We were channeling some pretty cool stuff from hip-hop to bebop to early [David} Bowie and Elvis [Presley] and everything in between. We are really going into rock's history.
"Some Cirque people call it popera. To me, it is more like an acid opera. I see it as a very psychedelic experience. To be totally honest, I think this is a show about women, the inner complexities of women. We meet all these various ladies along this journey that the ringleader, Zark, takes. We see the extremes, and that allows us to create these characters musically. We have our snake lady, we have the woman of the Earth who is kind of a white witch and everything in between."
Since I first saw "Zarkana" back in August at New York's Radio City Music Hall, I have written about the fact that the story is told without English. The actors created their own Cirquelish (also called Cirquish and Cirquespeak) language so that the audience can focus on the amazing acrobatics and create their own story to go along with the extraordinary performances. I wanted to know how the eight musicians and four singers who work under Nick understood it so they were always on cue.
He told me: "It is actually easier than you think because I wrote the whole show in English to begin with, so it all meant a lot to me. It was all coming from a real place. I was reading an interview with David Byrne the other day, and he was talking about how lyrics aren't that important, but it is the sounds that we make with our mouths that we connect with as listeners.
I retained the sound after I'd written these songs and rewritten them and crafted them and crafted them until the point that they were in the show. Then rewriting the libretto in Cirquelish, their own language, it still retained a meaning for me and for the players, and our lead singers Paul Bisson as Zark, and Cassiopeia. You can see it in their performances.
"We picked our musicians because they are dreamers and great musicians able to play multiple instruments. What I like to do when I work with anyone is I like to create a good environment in terms of the sound in the studio. A studio is a very magical place, and so is a band; they create an aura around them. We were lucky enough to find very different people from all walks of life, and they play like a family.
"They understand the language that is being spoken because it is in their fingers, it is on their tongues, and it is in their feet the way that they shuffle; it is the way that they dance. They have a second skin now that they're part of Cirque. I am part of it, too. I look at my hand now, and it has music scales on it.
"I'll let you in on a little secret: My four singers sing operatic at times in the show, and then at other times, you have the Cirquelish language. But there are little bits of English here and there you might discover."
Nick so far in his three years with "Zarkana" has seen every Cirque show but one: Criss Angel's "Believe" at the Luxor. He plans to see it soon. I asked him as a musician what sets "Zarkana" apart.
"This is a young show. I am 20 years younger than any other composer who has ever done this, and thank you, Elton, for giving me this opportunity, and thank you, Cirque, for believing in me long enough that I was able to pull it over the line. There is something interesting about music. As musicians get older, they no longer, for whatever reason, they don't write songs that 14-year-olds listen to. There is something inherent about the length of note, the chord you choose, or the words you say, or just the phrase that you make, but it has culture to it.
"There is something about youth, I don't know how to explain why 12 notes can be continually put out and reinterpreted and for a new generation we all have our heroes. In the same way that we had Kurt Cobain in the '90s, he owned that generation. Every generation has their star, like Elton was in 1973 and still is today, incredibly. He is a whole other thing.
"The secret of the music is to celebrate the emotions of what is there. That is all I have ever tried to do in music, to make something that is greater than the sum of its parts. The thing that fascinates me about music is that inexplicable element, that fifth element that is out there, but you can't explain it."
Nick told me his favorite act in the show is the last one, the Banquine with the Russian troupe. "I love it for the music and I love it for the fact that they aren't using props. There is nothing mechanical; it is just humans doing something onstage totally nonhuman. Every time I see it, I am in disbelief.
"Banquine blows my mind every time. I don't know why it does it every time because I am a skeptic with so many things, but Cirque has a way, continually, even in training, it just blows my mind. When you see it all come together with the costume and the lighting and the set, it is too much.
"I'm happiest because the cast of kids loves my music. It is cool. It is pretty special. They are always walking around the halls singing them, and it's all in Cirquelish. Explain that — it's all in the music!"
COMMENTS
There aren't any comments yet.
Comments are closed.