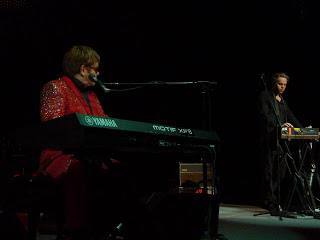 Please find below the complete set from Friday November 16 at the Sydney Entertainment Centre.
Some video excerpts will be uploaded later in the week.
SUPPORT 1: SCHMIDT
SUPPORT 2: 2CELLOS
Smooth Criminal
With or Without You
Smells Like Teen Spirit
Highway to Hell (with John Mahon on percussion)
Orchestral Finale Intro
ELTON SOLO
The One
Sixty Years On
I Need You To Turn To
The Greatest Discovery
Border Song
Your Song
Levon
Tiny Dancer
Mona Lisas and Mad Hatters
I'm Still Standing
Believe
Daniel
Rocket Man (Extended Version)
I Guess That's Why They Call It The Blues
Someone Saved My Life Tonight
Philadelphia Freedom
Nikita
Don't Let The Sun Go Down On Me
Candle in the Wind
STAGE RUSH
Sorry Seems to be the Hardest Word
Take Me to the Pilot
Bennie and the Jets
AUTOGRAPH SIGNING
ELTON VS PNAU SET
Sad
Good Morning to the Night
Phoenix
Telegraph to the Afterlife
Are You Ready For Love (Extended Version)
COMMENTS
There aren't any comments yet.
Comments are closed.