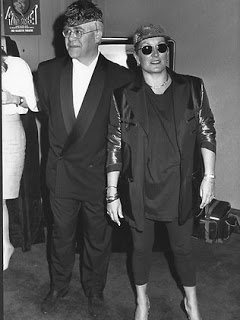 WHEN you fall out with Elton John it seems you fall out forever.
Confidential was interested in pictures circulating this week showing the veteran rocker on a Harbour trip with young son Zachary Levon Furnish John, 23 months.
In the shots, the deck of billionaire Paul Ramsay's private yacht, Oscar, is swamped with revellers. Many well-known Sydneysiders are on board. Former TV exec Vicki Jones, a frail looking Ramsay, antiques dealer Martyn Cook and Dolly East, widow of Australian music guru Ken. There are also a number of very handsome young men. Natch.
But missing from the eccentric party was John's one-time best mate, Patti Mostyn, the Sydney woman who for 20 years was his local publicist.
Mostyn once famously said she fully expected to be the bride at John's bizarre 1984 Sydney wedding to Renate Blauel. Mostyn was relegated to the less glamorous role of bridesmaid.
"I always I thought I'd be the bride. I was desperate about him," she said afterwards. But that was before Elton dumped his manager John Reid (groomsman at his Darling Point wedding) and apparently shed Mostyn, Reid's friend, in the process.
Elton and Reid's relationship ended acrimoniously in legal action in 2000 over a leaked letter from his accountants detailing Elton's extravagant spending.
This column called Mostyn to ask how she felt about being left out of John's Sydney reunion this week.
"I'm perfectly fine with it," she said good naturedly, explaining she'd been in Melbourne celebrating Michael and Sue Gudinski's joint birthdays anyway.
Mostyn still remains close to John's mother Sheila Farebrother, whom she visits on a regular basis in the UK.
Farebrother too appears to have fallen foul of her son, Elton, aka Reggie.
She told the Daily Mail last year that she had "no particular interest" in the arrival of her grandson, Zachary.
She and her 65-year-old son fell out four years ago after John "cut me off" – apparently after some exchange took place between her and his partner David Furnish, an exchange that so upset the musician he decided to cease all communication with his mother.Also missing from Ramsay's boat was Molly Meldrum, no longer one of John's nearest and dearest Australian friends.
John is still stinging after Meldrum permitted the broadcast of John's candid off-camera comments about Madonna, who he described during an intereview as a "f … ing fairground stripper".
COMMENTS
There aren't any comments yet.
Comments are closed.