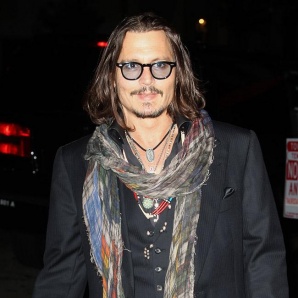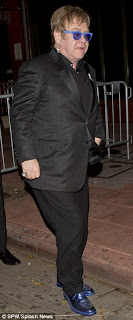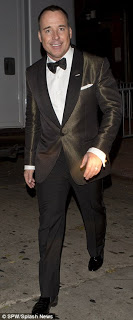 He famously arrived at his own 50th birthday bash dressed as Louis XIV – wearing a wig so big that he had to be transported to the party in the back of a van.
And things were equally as extravagant last night when Elton John threw a 50th bash for his long-term partner David Furnish – complete with a porn director DJ, a playboy playmate and an array of drag queens.
The Rocket Man singer pulled out all the stops to celebrate David's birthday at the Belasco Theatre in Los Angeles – with A list star Victoria Beckham making a very late entrance away from the public eye after co-hosting a dinner in LA with her idol, US Vogue Editor Anna Wintour.
Sir Elton, 65, hired Chi Chi LaRue – real name Larry David Paciotti, a pornography director – to DJ at the party. Chi Chi describes 'herself' as a 'porn director, DJ and diva' on her Twitter account and says she likes to 'film men doing dirty delicious things'.
Chi Chi tweeted: 'What a magical glamorous night! Happy Birthday David Furnish! Thank you EJ for asking me to celebrate with you and be your DJ!!'
Meanwhile, another guest was Nikki Leigh, Playboy's Miss May 2012 playmate, whose naked figure adorns her Twitter account.
Nikki, 23, boasted that it was going to be a 'ravishing' night at the party and then posted a picture of her posing with actor Neil Patrick Harris, who along with his partner David Burkta, is close friends with Elton and David.
Among the high-profile guests were Elizabeth Hurley, who arrived in the arm of her fiance Shane Warne, looking stunning in a full-length white gown.
Elton and David are godparents to Elizabeth's 10-year-old son Damien and she stayed at their Windsor home after his birth away from the public eye.
And while the couple are godparents to the David and Victoria Beckham's oldest son Brooklyn, 13, the Beckhams were not seen making a grand entrance on the red carpet.
Instead, Posh, 38, was hosting a private dinner with US Vogue Editor Anna Wintour for the Vogue Fashion Fund and the BFC, the British Fashion Council.
And a source said: 'Victoria and David went on to Elton and David's after the Vogue dinner had finished and they went in through a private entrance, so no-one saw them.
'They got there in time for the speeches and partied until 3am – they had a great time!'
Intriguingly, Johnny Depp turned up – even though he has rarely been seen with Elton and David, apart from at a dinner in LA last year.
Looking bedraggled, the actor threw a scarf around his neck, teamed with strings of necklaces, while Gwen Stefani looked amazing, as she turned up in a tuxedo suit teamed with black bra and her signature red lipstick, on the arm of her husband Gavin Rossdale.
To mark his big day David and partner Elton John threw a typically extravagant party at the Belasco Theatre in Los Angeles for all their favourite celeb pals. And the guests were lucky enough to enjoy a special musical rendition from the Pirates of the Caribbean star who sang disco favourite, the YMCA, whilst reportedly wearing a drag costume.
Renowned chef Ludo Lefebvre is believed to have catered the meal, with Circque de Soleil providing some more entertainment.
While R&B singer Chris Brown was spotted arriving in his new blacked-out $750,000 Lamborghini, wearing a black suit and leopard print shoes.
The 23- year-old rapper and musician is believed to be back with Rihanna after recently dumping his girlfriend, model Karrueche Tran.
We've got Tonight singer Lulu arrived at the bash with music producer Nigel Lythgoe. The 63-year-old Scottish superstar looked fantastic in a pale pink dress with matching ruffled detailing over the top.
In a striking black number, bearing a a three dimensional black flower, comedienne Joan Rivers arrived with her daughter Melissa. Holding hands, the mother and daughter laughed and smiled as they made their way inside the theatre
It was the second birthday bash in a four-day event planned by Elton for David.
The couple entered into a civil partnership in December 2005 and have a one-year-old son called Zachary.
On Thursday night, Elton threw a party for 200 of their closest friends at their new $7.6 million Beverley Hills home, where the Gypsy Kings provided the entertainment.
Tonight will see David and his guests heading to the Greystone Manor nightclub where veteran singer Cher is expected to take to the stage for and exclusive performance.
And if that was not enough, tomorrow, guests will be driven 300 miles to Las Vegas, and given the best seats in town to see Elton's Million Dollar Piano show at Caesars Palace, with a private after- party in the hotel to round off the epic celebrations.
COMMENTS
There aren't any comments yet.
Comments are closed.