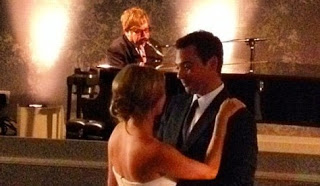 Elton John is a wedding singer. After all, what singer who has made a bajillion dollars over their singing career wouldn't want to play two weddings in a single weekend.
Kidding aside, the megastar singer took time out of his busy schedule this weekend to attend the wedding of Laura Katzenberg, daughter of mega-producer Jeffrey Katzenberg.
Elton and Jeffrey have been best friends ever since Katzenberg was running Disney and Elton John recorded the soundtrack for The Lion King. When it came time for Lauren and producer husband Mark Sudack to tie the knot, Elton John was reportedly all too happy to jump behind the piano for the couple's special dance.
Here's the thing: Elton John also performed at another wedding this weekend, the marriage of actress Holly Valance and her UK billionaire husband Nick Candy. That wedding occurred at the Paramount lot in Los Angeles.
But, wait, there's more! It turns out that Elton John back in August played a wedding in Canada. That wedding performance came about after the groom made a gigantic donation to Elton John's AIDS foundation.
COMMENTS
There aren't any comments yet.
Comments are closed.