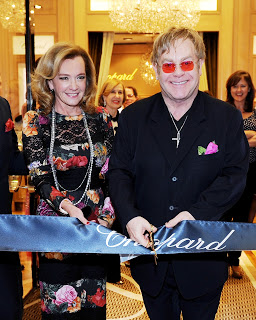 Superstar Sir Elton John's four-day birthday bash for his husband David Furnish continued Saturday night at the gala opening of the Act theater nightclub in the Palazzo — and continues for a fifth day with a celebration here this evening.
On Saturday night, the birthday action moved to Las Vegas, where Elton wraps his 2012 season run of shows at the Colosseum tonight. David's party at the Act also served as the glittering opening of Simon Hammerstein's theatrical club, which Vegas DeLuxe previewed Wednesday.
Among those joining Elton and David: Susan Sarandon, Mark Salling, Chris Mann, Christina Hendricks, Victoria Grant, Malin Akerman, Alison Melnick, Michael Gladis, Matt Stone and ringmaster, MC and performance artist Raven O. Simon was joined by Murtaza Akbar and Randy Weiner, his business partners in the Act.
This afternoon, I'll join Elton and David at the Wynn when they cut the red ribbon to open the luxury watch boutique Chopard. Then the Geneva, Switzerland-based jeweler and watchmaker's executives are Elton's guests at his hit headliner show "The Million-Dollar Piano," followed by dinner.
We'll have our chat with Elton here at Vegas DeLuxe on Monday.
COMMENTS
There aren't any comments yet.
Comments are closed.