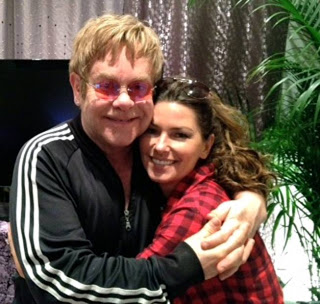 All that glitters is gold, and for Sir Elton John, his 72 hours in Las Vegas toasting the 50th birthday of his partner David Furnish was truly a bejeweled and sparkling celebration. When I talked to the festive duo Sunday, Elton revealed that he's seriously thinking of extending his Caesars Palace residency to 2016 or even 2017.
"I've really had the greatest time in Las Vegas. It's been the best. It's so good to stay put in one place so long, and we're only a quick trip from the new house in Los Angeles," he told me.
Elton, who hails from my hometown of Harrow 20 miles outside London, wrapped his 2012 residency at Caesars on Sunday night and departed for England. He has a week's vacation there before touring in Australia and China.
"I'm going to keep on doing shows especially here in Las Vegas because this run truly has been the best ever. We have always had the best time in Vegas. We love it here. I'm serious about continuing it out to at least 2016," he said.
His whirlwind weekend here continued the 50th star-studded birthday celebrations he'd planned for his husband that began in L.A. "A lot of work went into this, and thankfully it all went smoothly," Elton added.
New Caesars resident headliner Shania Twain was the first to greet them, and her husband Frederic Thiebaud snapped a wonderful photo on his cell phone of the two stars backstage. The Canadian songbird tweeted: "My first favorite moment in the Colosseum in Vegas. A genuine welcome hug from music hero Elton John backstage in 'our' dressing room."
Sir Elton, who was knighted by Queen Elizabeth II in 1998 for his charitable work, flew in 120 of their friends for the finale of David's birthday. They joined 1,000 revelers at the Palazzo for the premiere of the Act, the groundbreaking nightclub theater from nightlife impresario Simon Hammerstein.
Guests included Susan Sarandon in a purple Halloween wig, Malin Akerman, "Mad Men" bombshell Christina Hendricks and beau Geoffrey Arend, "Mad Men" star Michael Gladis and "Glee" star Mark Salling. Our sister Vegas Magazine hosted the first-night party as David was feted with a blue-tiered cake.
The other major highlight for the nonstop birthday events was the official opening of the jewel-box Chopard boutique at the Wynn on Sunday. The superstar entertainer cut the ribbon to christen the store with CEO and jewelry designer Caroline Scheufele.
"This is like christening a new ship with champagne," Elton joked with me. "That's something I've never done, yet always wanted to, but a ribbon cutting like this is just as memorable."
Chopard is the jewelry and watch sponsor of his AIDS Foundation, and 15 percent of each sale from 50 models in his watch collection is donated to his charity. He proudly showed me the one-of-a-kind two-skull watch that Caroline designed and presented to him as a gift for the celebration. He also owns one of the 25 limited-edition MKII timepieces he wore to his Oscar party this year.
Chopard executives celebrating the opening of the Las Vegas store with Elton also met him for a cocktail reception backstage at Caesars on Sunday night before watching "The Million-Dollar Piano." They dined at Guy Savoy at Caesars. I had dinner with them the night before at Lakeside Grill in the Wynn, where stunning jewelry pieces worth millions were on display under guard.
At the store opening, Christina showed me the staggering ring and matching earrings from Chopard's Temptations collection, and Malin displayed a three-stone sapphire ring with pink-and-white diamond earrings. Before Elton departed, I had to ask him how his life is as a father to son Zachary Jackson Levon Furnish-John. David and he started their relationship in 1993 and entered a civil partnership in December 2005. Their son was born to a surrogate mother in California on Christmas in 2010.
"It is great being a dad. It has completely changed our lives. We even bought a new home so we wouldn't have to worry about Zack in our old high-rise apartment. It is so incredible to watch him grow up right before our eyes. Los Angeles makes great sense as the home to raise him in. It's a wonderful experience," he told me.
Elton summed up: "This has been a wonderful 50th for David. Mine in London was over the top. Then I celebrated my 60th in New York, so I think when it comes time for my 70th, we'll keep it just to a quiet dinner for several close friends."
COMMENTS
There aren't any comments yet.
Comments are closed.