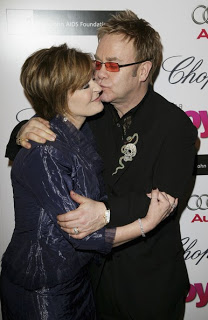 Sir Elton John, Mariah Carey, and Tommy Lee helped make Sharon Osbourne's 60th birthday extra special by filming special tributes to be aired during her U.S. chat show The Talk on Tuesday (09Oct12).
Sharon Osbourne hit her sixties on Tuesday and to mark the milestone, her Tv co-stars presented her with a dog-shaped cake and a special bash attended by her husband Ozzy Osbourne and their daughter Kelly.
The Black Sabbath icon, who has been married to the Tv personality for 30 years, held back tears as a video montage of their life together was aired, and 27-year-old reality star Kelly came out to give her mother a hug, stating, "I love you more than anything."
The couple's son Jack Osbourne, who is on holiday in Hawaii, where he recently wed his fiancee Lisa Stelly, also shot a short video for the programme, during which he wished his mum a happy birthday.
The rock matriarch was then showered with warm wishes from her America's Got Talent pal Nick Cannon, who arrived on set with a massive array of balloons, and his singer wife Carey, who offered up a video rendition of the song Happy Birthday.
Motley Crue's Lee and Nikki Sixx also taped message for the birthday girl, as did veteran entertainer Elton John, who said, "Your 60th birthday today, you don't look it. I love you madly, I will always love you. You are a dearest friend and I hope you have the best day and I will see you soon and give you a big hug in person. Love ya."
COMMENTS
There aren't any comments yet.
Comments are closed.