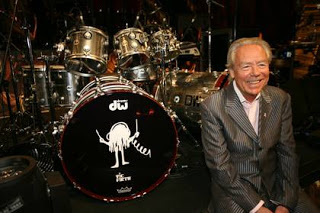 Nigel Olsson has always wanted to be a showman, but onstage he's not always so showy.
At times, he might even be overlooked.
It's not easy to lose track of the drummer in a rock band, of course, except when the man at center stage is Elton John, and his instrument — and show — is known as "The Million Dollar Piano."
But Olsson, the self-described quiet one who took up drums early in his career primarily because it was a safe place to hide when fans in English pubs threw bottles at the stage, has a move that's all his own. He pivots his body from his right to left and crashes the manhole cover-sized cymbal high atop an oversized drum set fashioned after a World War II Royal Air Force Spitfire fighter plane.
Olsson slams that cymbal with a flourish, part orchestra conductor, part lumberjack. It's a move made by any drummer, but none strike the cymbal with quite the flair of the man who has played drums for Elton John since 1970.
This isn't to suggest the 63-year-old Olsson has choreographed this act or is one to throw thunderbolts from behind his drum kit.
"You know, I don't play hard. People think I play hard because of the way my drums are tuned, which is very low," says Olsson, whose silver suit on this day matches his hair and drum set. "But I'm proud of the emotion I put into the sound. I hardly ever break sticks. They wear out, but they rarely break.
"The way I play, I want to give the emotion that comes from these incredible songs to whoever is listening. Maybe the best way to say it is I am a very descriptive drummer. I play to the piano, and to the lyrics."
John's "Million Dollar Piano" is in the midst of its most recent run at the Colosseum in Caesars Palace. The remaining performances in this spree are tonight through Sunday and Oct. 26-28. (In September 2011, John signed a three-year contract to perform a total of 90 shows, but Olsson said he hopes two more years might be added to that agreement; he would buy a condo in Las Vegas if that happens.)
John's band is mostly comprised of musicians with whom he has performed for decades, but none dates back as far as Olsson.
The two met in 1969, and the first credited performance by Olsson on any John collaboration was the song "Mr. Boyd" by the soon-forgotten band Argosy. The group featured Roger Hodgson (who later founded Supertramp) on vocals and Reginald Dwight — later to be known as Elton John — on keyboards.
Asked about that initial project, Olsson laughs and says, "Wow, that sounds right, probably. I'll have to check my royalty checks." Olsson also was a member of a short-lived band called Plastic Penny, which was managed by Dick James Music, which also was the publisher of songs written by John and longtime collaborator Bernie Taupin.
"With me being around the office, I got to know all the guys, and Bernie and Elton were there writing songs for other people," Olsson says. "I got to know them that way."
In a nomadic path familiar to many rock drummers, Olsson shifted to the better-known Spencer Davis Group. When that band fractured, John recommended Olsson to play with Uriah Heep, a partnership that lasted "nine dates, and, I think, one record," as Olsson recalls.
But John had more far-reaching plans, as he had just recorded his eponymous first album (using Terry Cox on drums) and was being sent to the United States on a brief but career-changing promotional tour.
John asked Olsson and bassist Dee Murray to join him for a trip to the Troubadour rock clubs in Los Angeles and San Francisco for weeklong engagements in each venue. This was in the summer of 1970, as the trio were to debut in the U.S. in late August.
The three filed into James' office to rehearse. Among the songs sampled were "Your Song," "Bad Side of the Moon" and "Take Me to the Pilot."
"Within the first eight bars, I knew this was the kind of music I wanted to play," Olsson says. "It took me totally to a different place. It was inspirational, refreshing. I thought, 'I haven't heard this type of music since the Beatles broke through.' "
Taken as a whole, the club dates were a make-or-break proposition. If they were well-received, Elton and his little band might well be on their way to international success.
If not …
"(James) said he knew a shoe store down the street (from the Troubadour in L.A.), and you can get a job making shoes," Olsson says, laughing. "True story. So I didn't get the job at the shoe store."
Aside from a 10-year hiatus to pursue his chief nonmusical passion, racecars, Olsson has since been John's primary drummer. He has been at the epicenter of some of the greatest music and performances in the history of rock music, yet is nonchalant about his rise to fame. From that opening night at the Troubadour (which is memorialized in a color-splashed montage during John's show at the Colosseum), when Neil Diamond, Quincy Jones, Gordon Lightfoot, Leon Russell and Mike Love of the Beach Boys were in the audience, Olson has remained hard focused on the music.
"We didn't have time to figure out what was going on. We were working nonstop," he says. "We'd go in and record an album, then go and tour. We always were touring some songs that were still in the can, basically, and we didn't have time to sit back and think, 'Wow! We're getting big time here!' "
When asked of his music inspirations, Olsson first mentions the Beatles. Many of his references to his playing style, or even his personal disposition — unassuming, like Ringo — are geared toward the Fab Four.
"I would say that I'm not a technical drummer at all. I can't read music. The way I love to play is just putting the headphones on and listening to the Beatles," Olsson says. "I idolized Ringo. I modeled my playing after him. I loved his work on songs like 'I Am the Walrus,' and from him I learned that what you leave out makes it work."
Olsson favors ballads, quickly listing "Someone Saved My Life Tonight," "Goodbye Yellow Brick Road," "Circle of Life" and "Empty Garden," the tribute to John Lennon just added to the Colosseum set, as his favorites.
"When you play the ballads, you can feel the warmth from the crowd," he says. "We play the same songs every night, the exact same show, but the feeling from the crowd is always special, you can really feel that each night."
Asked to name another drummer he counts as an influence, Olsson's answer raises an eyebrow: Stevie Wonder.
"Believe it or not, yeah, the way he plays drums is amazing," Olsson says, grinning. "I worked with him on the 'Songs in the Key of Life' album because I was doing a solo record in the same studio complex (the Record Plant in Hollywood). He heard my drums that Slingerland (Drum Company) had especially built for me and said, 'Can I borrow your drums?' So I called the company and asked if it would be possible to make a drum kit exactly the same as mine for Stevie Wonder. They said, 'Stevie Wonder? What?' but stopped the production line and had them sent within a week."
Olsson stops at that story and says, "Funny, isn't it? Who you meet?"
But Olsson is not terribly fond of telling Elton stories. Years ago, he grew tired of the questions about the iconic, and occasionally temperamental, superstar. "Everyone wanted to know, 'How many pairs of glasses does he have?' Or, 'How high are his shoes?' because he used to wear these knee-high boots. It was just so boring."
But he does speak to John's brilliance. "There's no two ways about it. I mean, he's a genius. He's so kind to people, even though he'll throw what we call 'wobblers' now and then."
John threw a "wobbler" during a show at the Colosseum in May, tossing a stool and water bottles across the stage and complaining generally about his management team.
"He'll get mad if the flowers are dead in the dressing room — or wilting. There is a certain type of flower he hates, I can't remember which," Olsson says. "But he's such a decent person. Since Zachary came along, the baby, it's made his life a lot calmer."
The son of John and his husband, David Furnish, Zachary turns 2 on Christmas. He was born to a surrogate mother and also is remarkable because his godmother is Lady Gaga.
"Elton sent me a video of Zachary in France when they were on holiday, in August," Olsson says. "He's eating lunch, and you can hear David in the background, 'What's that you're eating, Zachary?' And he says, 'Petit pois! Peas!' So he's now bilingual! One of the cutest kids I've ever seen."
Olsson likens John's band to a family. Longtime members back John onstage at the Colosseum. The graybeards include guitarist Davey Johnston, keyboardist Kim Bullard and percussionist Ray Cooper (whom is a flurry of activity onstage behind Olsson). Percussionist John Mahon and bassist Matt Bissonette fill out the band. Bissonette is stepping in for the late Bob Birch, who died at age 56 of an apparent self-inflicted gunshot wound in August.
Birch had for years been suffering from pain in his legs and back from being hit by a truck in Montreal in 1995, an accident that nearly killed him. In the shows leading up to his death, Birch was in such pain, he played while seated on a stool.
Olsson says that when it came time to reunite the remaining band members, John pulled the musicians and crew together and said, "We all loved Bob, and we will only think happy, good thoughts about him. There will be no crying, no miserable faces, and we will always have him in our hearts."
"Of course, by the end of it, everybody was crying," Olsson says.
He is similarly moved when recalling the "electric" night of Thanksgiving 1974, when Lennon joined Elton and the band for three songs at Madison Square Garden. This was to pay off a bet Lennon had made with John that he would join John for that show if "Whatever Gets You Through the Night" reached No. 1. It did, and Olsson counts the moment as one of the highlights of his career.
"You would not have believed the energy of that night," he says.
During the show at Caesars, as grainy footage of Lennon charging onstage with John plays on the Colosseum LED screen, Olsson starts the song by stepping into his bass drums with two quick beats.
"Thump-thump" is the sound, and the descriptive drummer is keeping perfect time with every heartbeat in the room.
COMMENTS
There aren't any comments yet.
Comments are closed.