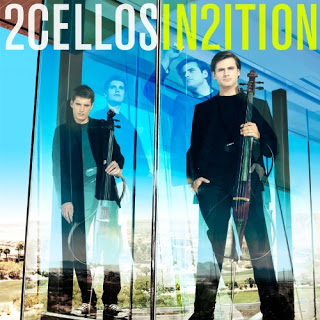 Croatian cellists Luka Sulic and Stjepan Hauser, known as 2CELLOS are back with a new music video and a brand new album.
The music video for their first single is a powerful and intense rendition of AC/DC's "Highway to Hell" featuring guitar great Steve Vai. "Our fans love this song at our live shows and we really wanted to add it to the album," says Stjepan. "It was very exciting to work with an amazing musician such as Steve and we really want to show the people that the cello can rock as hard as the guitar!" says Luka.
The new album, entitled IN2ITION (pronounced Intuition) is produced by the legendary Bob Ezrin, and is set for release on January 15, 2013 through Sony MASTERWORKS.
The label released 2CELLOS' self-titled debut album last year, establishing Sulic and Hauser as an innovative classical-pop/rock duo who took their classical instrument to the contemporary repertoire.
On IN2ITION, 2CELLOS take their original concept even further by including guest artists like Elton John, guitarist Steve Vai, Glee's Naya Rivera, classical superstar Lang Lang, legendary Italian vocalist Zucchero and pop artist Sky Ferreira. IN2ITION was recorded in Zagreb, Rome, Nashville, Las Vegas and Los Angeles.
"Both Luka and I love classical music and have studied it since childhood," notes Hauser. "But we are really excited to put our own take on some of our favorite pop and rock songs."
The new 2CELLOS album offers a fresh and unique twist on classics such as Fleetwood Mac ("Oh, Well" feat. Elton John), The Prodigy ("Voodoo People"), Coldplay ("Clocks" feat. Lang Lang), Rihanna ("We Found Love"), AC/DC ("Highway To Hell" feat. Steve Vai), Muse ("Supermassive Black Hole" feat. Naya Rivera), Cher and Nancy Sinatra ("Bang Bang" feat. Sky Ferreira), The Police ("Every Breath You Take") and Elton John ("Candle In The Wind").
"Elton suggested that we cover 'Oh, Well' because he thought it would be perfect for the cello. We said we'd do it if he sang on it and he agreed!" says Stjepan. "It's a fairly unknown Fleetwood Mac song and Elton's voice sounds amazing on the track."
The 2CELLOS' career received a substantial boost in January when they performed "Smooth Criminal" with actress Naya Rivera's character "Santana" in Glee's Michael Jackson tribute episode. It was the first time that the blockbuster hit show featured an instrumental group as the guest artist. While on set they struck a friendship with Rivera, who will appear on Muse's "Supermassive Black Hole." "We love Naya's sexy voice – it's perfect for this song!" says Stjepan. "We recreated Muse's amazing guitar riff on the cello and by using different sound effects, we gave this traditionally classical instrument a more contemporary, rock sound."
IN2ITION also features 2CELLOS' original track aptly named "Orient Express". The Orient Express was a legendary train from Paris to Istanbul that passed through the Balkans, including Croatia. "We drew our inspiration for the melodies from our Balkan roots and the continual persistent rhythm of the track resembles a train, hence the title," says Luka.
"We're extremely happy to have collaborated with such great guest artists and we believe that this is just the beginning. We've practiced all our lives, and in this project we've succeeded in extending the possibilities of the cello and bringing it to a wider audience," say the 2CELLOS.
Tracklisting:
1. Oh, Well (feat. Elton John)
2. We Found Love
3. Highway to Hell (feat. Steve Vai)
4. Every Breath You Take
5. Supermassive Black Hole (feat. Naya Rivera)
6. Technical Difficulties
7. Clocks (feat. Lang Lang)
8. Bang Bang (feat. Sky Ferreira)
9. Voodoo People
10. Candle in the Wind
11. Orient Express
12. Il Libro Dell 'Amore (feat. Zucchero)
13. Benedictus
COMMENTS
There aren't any comments yet.
Comments are closed.