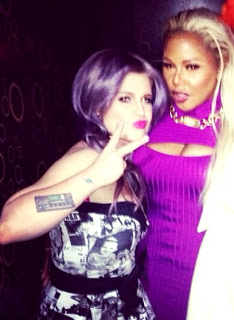 Lil' Kim has joined forces with "Fashion Police" star Kelly Osbourne for a rock/rap fusion track that updates Elton John's 1974 classic, "The Bitch is Back."
The pair, interviewed backstage at Wednesday's Betsey Johnson's New York Fashion Week show, have bonded over their love for fashion, and the rapper confirmed they're working on a song.
"I am telling you first that Kelly Osbourne and I are working on a record together! It's titled 'The Bitch Is Back,'" Kim told the New York Post. "It is a blend of British rock and rap and you won't believe your ears when you hear it! I have been talking with Elton John as well."
COMMENTS
There aren't any comments yet.
Comments are closed.