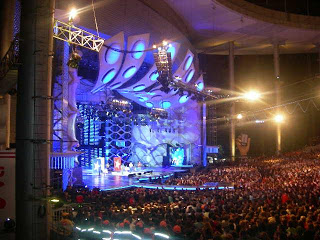 Elton John has recently been confirmed to perform at the 54th annual Festival de Viña del Mar. The 65 year-old superstar will join popular Latin artists Daddy Yankee, Juanes, and Ricky Martin.
"Friends, I have the pleasure to confirm Sir Elton John for the Festival de Viña del Mar," tweeted Viña del Mar mayor Virginia Reginato to her account.
Currently there are 13 artists lined up to perform. The festival is one of the largest music festivals in South America and attracts a wide array of popular Latin and western artists. Last year saw the entire town of Viña del Mar explode with excitement as some of the best musicians, dancers, and comedians blew the crowd away with positively stellar performances.
This will be Sir Elton's first time back in South America since his 2009 concert with James Blunt.
COMMENTS
There aren't any comments yet.
Comments are closed.