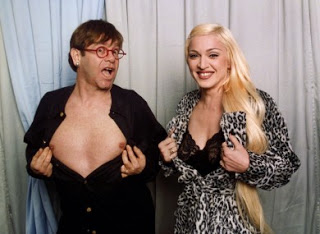 After a year of cat fighting, it appears ageing pop icons Madonna and Sir Elton John have kissed and made up.
Just weeks after Sir Elton told Molly Meldrum he thought the Material Girl, left, looked like a "f…..g fairground stripper" the pair ran into each other at upmarket restaurant La Petite Maison in Nice, France.
Stunned onlookers reportedly said the two stars appeared to put their public battle behind them.
"Elton goes to the Petite Maison for dinner fairly regularly because it's near his villa in Mont Boron," a source told British newspaper The Sun.
"Just as he was leaving, he went over to talk to Madonna, there for a bite before her show, and they were laughing and smiling." The insider added: "They even hugged each other."
COMMENTS
There aren't any comments yet.
Comments are closed.