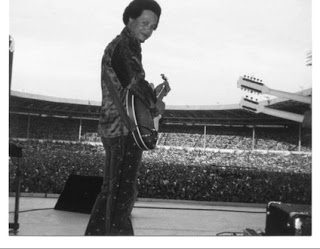 What do Lou Reed, Harry Nilsson, Joan Baez, Dusty Springfield, Hall & Oates, Liza Minnelli and many others have in common? For many years, Caleb Quaye was a much in-demand studio session musician. But exactly who is Caleb Quaye, the man Eric Clapton once told David Letterman was the world's greatest guitar player?
Caleb came from a musical family. His father was Cab Kaye, a well-known jazz musician in London, himself the son of pianist Caleb Jonas Quaye aka Mope Desmond. Many may know his younger step-brother Finlay Quaye who had a platinum album "Maverick A Strike" in 1997.
In 1965, Caleb worked at Mills Music, a publisher in London's Tin Pan Alley. A fellow tea boy working there was named Reg Dwight, a polite, shy and stodgy boy Caleb teasingly called "Billy Bunter." Some years earlier, the luckiest man in show business, Dick James who had been chosen by Brian Epstein to publish the Beatles music, and by 1966, Dick was looking to start his own record label. Dick and his son Stephen brought in Caleb to run the little recording studio they set up in order to create demos of songs they hoped to record and/or publish.
Meanwhile, Reg had been playing in a band called Bluesology and in 1967 decided that playing in a band was a dead end job — better he thought to be a songwriter, but he needed a lyricist and soon was connected to a young 17-year-old farmer's son name Bernard Taupin from Lincolnshire. They began writing music long distance (e.g., Bernie would mail lyrics, Reg would put them to music), and they had a need to create demo recordings of the new songs.
Caleb let Reg and some band members record demos in Dick's studio until his son Stephen discovered that the studio was being surreptitiously… he threatened to see Caleb and others fired over it, but it was Caleb who convinced Dick to take a listen to Reg's demos. Dick was impressed and immediately signed Reg and Bernie to a publishing deal.
Eventually Reg and Bernie realized that they were better suited to writing the kind of music they wanted to rather than trying to create cabaret music for Englebert Humperdinck and others. When few artists were covering their songs, Reg decided that he would have to promote his music himself. The idea was planted that Reg would become a star and he needed a new name. Borrowing from his Bluesology sax player Elton Dean and the singer they fronted Long John Baldry, Reg became known as Elton John.
Soon, singles were released and a debut album in 1969 which sold about 1,600 copies. Dick doubled down and decided to bring in Gus Dudgeon who had produced David Bowie and arranger Paul Buckmaster to create an orchestral "Elton John" album. A trip to Los Angeles and dates at The Troubadour sealed the deal — Elton became an overnight sensation. Another couple of albums "Tumbleweed Connection" and "Madman Across The Water" along with a film score "Friends" all featured Caleb Quaye on guitar. From the earliest demos right through to "Tiny Dancer," Caleb was there. Remember that great guitar line in the middle of "Take Me To The Pilot" or those great opening licks on the "Tumbleweed Connection" album – that was Caleb.
When Elton left for a tour of America, he didn't initially take a guitar player, and when it came time to pick a guitarist for his band, Elton chose the talented young folk player Davey Johnstone. And soon the touring band became the recording band. So Caleb became a sought-after studio musician and performed with his band Hookfoot through 1974. Then, of all surprises, Elton called in 1975 wanting to make changes to his touring band and as a result, Caleb suddenly found himself performing "Captain Fantastic" in its entirety at Wembley Stadium in front of 80,000 people. A few months later he was playing Dodger Stadium. Talk about a rocket ride.
The following year in 1976 there was another tour and another album to record and then… suddenly at the end of the tour it was over. Elton wanted to take some time off. Everyone was thanked for their service but now they were free to pursue other projects. Fortunately for Caleb, he was snapped up instantly by Hall & Oates and during 1977 and 1978 he and his Hookfoot drummer Roger Pope toured and recorded the 1978 album "Along the Red Ledge."
And then the two tea boys from Tin Pan Alley went their separate ways. On October 9, 1979, Caleb's life changed in a most profound way. He heard a voice that "was louder than rock n' roll." For the past 33 years, Caleb has been active in Southern California churches offering up a music ministry that has been helpful to many people. Additionally, he's been performing in Southern California with his fusion jazz band "The Faculty."
COMMENTS
There aren't any comments yet.
Comments are closed.