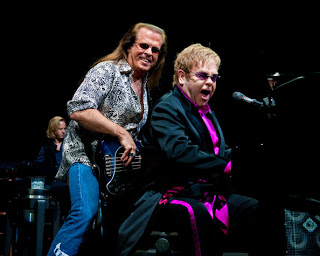 Robert Wayne Birch, a bass guitarist who played with Elton John and Billy Joel among many other huge artists, is dead after apparently having shot and killed himself this morning … TMZ has learned.
Law enforcement sources tell us … Birch was found around the corner from his home, dead from a gunshot wound to the head. We're told all signs point to a self-inflicted wound.
We're told authorities have not found a suicide note and there were no apparent signs of drug use.
Birch has been playing with Elton John since 1992, and was also involved in the biggest single of all time, "Candle in the Wind 1997."
Birch has also performed with legends like Tina Turner, Stevie Wonder, Eric Clapton, John Mayer, Cher, Sting, The Backstreet Boys, The Spice Girls, Clint Black and many others.
– TMZ
We are very sad to report the sudden death today of Bob Birch, Elton's bass player and backing vocalist, in Los Angeles. Bob had been a member of the Elton John band since 1992, the longest-serving bassist in Elton's touring band.
We send love and condolences to Michele Birch, and to their son, Jonathan.
COMMENTS
There aren't any comments yet.
Comments are closed.