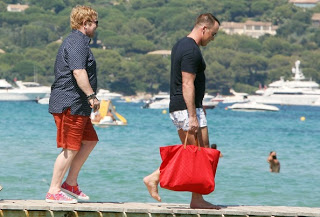 The cheeky gesture happened when Walliams and Sir Elton's boat passed Cowell's on the French Riviera.
Walliams, star of Little Britain and a judge on Britain's Got Talent, shouted across to music mogul Cowell: 'I've got something for you.'
He then bared his backside before Rocket Man singer Elton joined in the fun by also pulling a moonie.
Rather than the incident being malicious, it appeared that Cowell was just the butt of a joke as Walliams shouted across: 'Love you Simon.'
He then took to his Twitter account to excitedly tell his followers of the prank.
'I just mooned Simon Cowell. From a boat. That is true.
'And then someone a million times more well known than me mooned Simon Cowell too,' Walliams added.
COMMENTS
There aren't any comments yet.
Comments are closed.