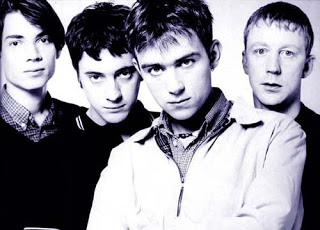 Soon you will be able to get your hands on 'Sir Elton John's Cock' with thanks to Blur.
The Blur song 'Sir Elton John's Cock' will finally be released on the forthcoming Blur box set 'Blur 21: The Box'.
The track was written during the Think Tank sessions but unreleased at the time.
Not much is known of the song. It was recorded in the early stages of the 'Think Tank' sessions and it was thought to have been deleted.
The release marks 21 years since Blur's debut album 'Leisure' in 1991.
According to EMI Records, "highlights of the box include early versions of tracks recorded for Leisure, bare bones early demos of the classic singles 'For Tomorrow' and 'Beetlebum', previously unheard songs 'Saturday Morning' and 'Hope You Find Your Suburbs' and never released sessions with Bill Laswell and the legendary session with XTC's Andy Partridge. Other rarities are 'Don't Bomb When You're The Bomb', 'The Wassailling Song' and 'Fools Day' which appear on CD for the first time. DVD material includes Live at Alexandra Palace 1994 and Live at Wembley 'The Singles Night' 1999".
"In addition to the 21-disc Deluxe Box Set, all 7 studio albums will be available individually, each with a second disc of b-sides, previously hard-to-find tracks and exclusive bonus material".
"A vinyl box set will also be available, with six of the seven albums on double-vinyl, highlighting iconic artwork and visuals from Banksy, David Shrigley and Graham Coxon among others. The vinyl box set will include a download code to access all of the bonus material digitally. Each of the 7 LPs will also be available separately on heavyweight vinyl".
'Blur 21: The Box' will be released on July 30, 2012.
COMMENTS
There aren't any comments yet.
Comments are closed.