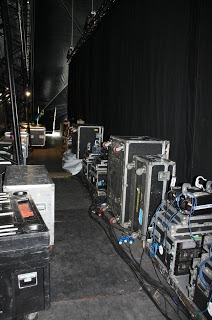 FANS who paid for top tickets to see rocket man Elton John on Tyneside last week say they couldn't even see the star from their seats.
The singer wowed concertgoers when he touched down in Newcastle last week to deliver a stunning set to a packed Metro Radio Arena.
But for a group of disappointed front row fans, the 65-year-old superstar might as well have been a tiny dancer for all they could actually see of the lavish show.
Despite paying £110 a ticket for what they thought should have been some of the best seats in the house, music lovers on the right hand side of row one, some of whom had travelled hundreds of miles to be there, say they were left staring into the blackness of a technical area rather than at the Candle in the Wind crooner.
Charlotte Hodgson, 36, a teacher from Wideopen, took mum Murial, 63, and was really disappointed.
"My view was of a black pit where the sound guys were set up.
"If I looked to the left all I could really see was equipment blocking the stage and the video screen was vertically above.
"I go to the Arena quite a lot and I never expected anything but a fantastic view. I must have been to over 100 concerts there and I've never found myself in a position like that before
"I spoke to the Arena on the night and they washed their hands of it, saying it was nothing to do with them and blaming Elton John's production company.
"Halfway through the show I asked to move seats further back but wasn't allowed.
"I asked for a refund, but they told me they have a 'no refund' policy."
A spokesman for Newcastle Arena said the problem was likely to be of production company Marshall Arts' making, and offered support to the disappointed fans should they not receive a satisfactory response.
"We take complaints very seriously but are not aware of any on the night," he said.
"Certainly, although it was a virtual sell-out, there were some pockets of seats that people could have been relocated to.
"Right now it would be best for people to contact the production company direct, as involving us as a third party will not help matters, but clearly if people come back to us after doing that, we might be able to take it up on their behalf."
Marshall Arts were unreachable for comment.
COMMENTS
There aren't any comments yet.
Comments are closed.