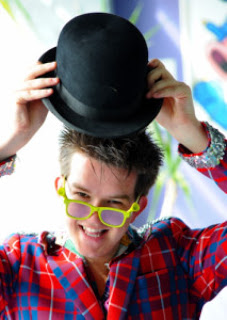 DETERMINED not to let the Elton John concert go to his head is one young man.
Sharp dresser Gregor Gee was spotted in the crowd by the star and before the night was over the chart-topper was sporting his natty bowler.
Known for his own flamboyant dress style, Sir Elton even signed the hat for the delighted Bo'ness entertainer.
Gregor (22) said: "This concert was always going to be part of Falkirk's history and I was determined to get involved.
"He is only going to be here once and like everyone in the crowd, I thought it was just amazing to be there on the night."
Sporting a sequin-trimmed tartan jacket, as well as the black bowler, Gregor was only six rows from the stage and was quickly spotted by the legendary performer. It wasn't long before the hat was getting some attention.
He added: "I threw my bowler hat on stage to Elton John, he then picked it up, wore it and then he tried to throw it back to me.
"It landed about five or six people behind me as everyone was trying to grab it and bounced back the way.
"He then sang a couple of songs before saying 'Where's the bowler hat? I want the bowler hat back'.
"The girl who caught it threw it back on stage and he then came over to me and said to the crowd 'Let him through, let him through' and handed it back to me personally.
"After his encore he came and asked for my bowler hat and he wrote inside it 'You Rock! Elton John'. What an amazing night and a brilliant memory!"
When he was a 16-year-old schoolboy Gregor was runner-up in the first-ever Voice of The Falkirk Herald competition and he credits that event with giving him a taste of being in the spotlight.
He said: "That's what really made me want a career in entertainment.
"However, I cannot believe that a star as big as Elton took time to sign autographs – and my hat – for the crowd. His fans really appreciated it and it was a great gesture.
"Falkirk's stadium was a great venue and it was an amazing night."
Sir Elton was one of the original glam rockers with his trademark silver platform boots, outrageous spectacles and rhinestone encrusted costumes.
His most spectacular stage outfits included his interpretation of the Statue of Liberty, Tina Turner, Pinball Wizard and Donald Duck.
But in 2008 he admitted that it was time to tone things down as he was now in his sixties.
On Sunday evening he sported a charcoal grey suit with a long jacket encrusted in rhinestones and a purple silk shirt.
COMMENTS
There aren't any comments yet.
Comments are closed.