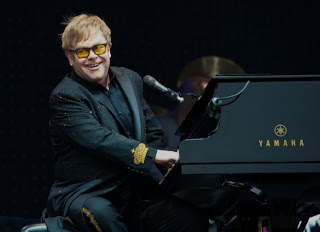 Legendary singer Elton John and a British rock band Queen will hold a charitable anti-AIDS concert on the Independence Square before the Euro 2012 European Football Championship final.
"Elton John and rock band Queen will play to support the fight against AIDS, here, on Independence Square," Head of the ANTIAIDS Foundation Olena Pinchuk said at a press conference in Kyiv on Thursday.
The ANTIAIDS Foundation, with the assistance of UEFA, will organize the concert. The concert will be entitled "Your Life is Not a Game. Let's Stop AIDS Together!" It will begin on June 30 at 2000 and will last until midnight.
According to Pinchuk, Elton John and Queen refused payment for the performance.
The concert will take place on the stage in the fan zone on the Independence Square.
"We will not build anything special," she said.
The concert will consist of two parts, admission will be free of charge, and in addition, the concert will be broadcast live.
Pinchuk assumed that Elton John and Queen could attend the final match of Euro 2012 and said that she did not know whether they would attend the closing ceremony of the championship.
During the concert, the foundation will raise funds for a new joint project of Elton John's and Olena Pinchuk's anti-AIDS foundations.
COMMENTS
There aren't any comments yet.
Comments are closed.