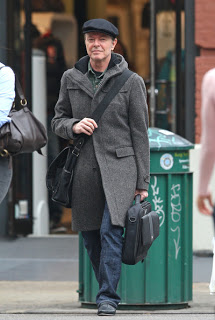 David Bowie doesn't actually take part in David Bowie and the Story of Ziggy Stardust (BBC4), an excellent documentary about the making of the album, and the birth of the alter ego that catapulted him from just an androgynous 1970s oddball to unearthly android and icon, the biggest – and most important thing – in British pop since the Beatles. It would be out of character, and take some of the mystery away, for him to appear as a talking head in a TV documentary, albeit one about himself. Elton John does that kind of thing – not Bowie.
It doesn't really matter, since just about everyone else who was there takes part: the Spiders from Mars (apart from guitarist Mick Ronson, of course, though his widow appears), plus producers, press officers, mime artists, old queens, dance teachers, journalists, photographers, friends, lovers, and a bunch of other musicians who were friends or fans or who simply wouldn't have happened if it hadn't been for Bowie. Like Marc Almond, Holly Johnson, and perhaps Jarvis Cocker, who is narrating.
Ah, and here is Elton John. "It was like an art installation, it was like, 'Wow!'" he says of Bowie's first appearance on Top of the Pops, singing Starman. "No one had ever seen anything like that before." And here's Elton again, on Bowie's seminal album. "When he came out with Ziggy Stardust, it was like an art installation, it was like, 'Wow!'" he says. Yeah, all right Dwight, we get it: it was like an art installation, it was like, "Wow!" Maybe Bowie does well not to appear on these shows.
Some of the Ziggy stuff, old interviews in which Bowie claims his mind was taken over by his own creation, now seems a little ridiculous in the get-real, down-to-earth 21st century. Yeah shut up, mate, you're from south London, not from bloody space. He doesn't even come over as a particularly nice person: very self-possessed and narcissistic. But perhaps you have to be, to be a genius. And God, it still sounds good, doesn't it?
COMMENTS
There aren't any comments yet.
Comments are closed.