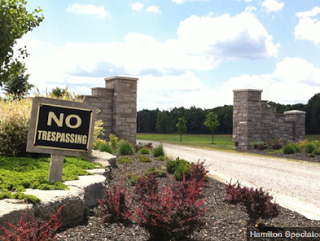 It certainly looks like an appropriate summer crash pad for the Rocket Man.
A celebrity of Sir Elton John's stature would likely appreciate the modern video surveillance and throwback stone-and-iron gates that discourage curious trespassers from entering this lakeshore property.
It would also be tough to say no to the private beach that's being dug straight out of a Lake Erie cliff.
But is one of the most popular singer-songwriters of all time really building a Port Dover hideaway?
Some residents of the popular Lake Erie tourist town think so. Or someone famous with loads of money, anyway.
"I've heard the Elton John rumours, but I've heard Justin Bieber too," local realtor Daryl Swarts says with a laugh. "It's a fun (rumour), but not a new one."
Town residents started buzzing in 2008 after a numbered company bought a slice of former lakeshore farmland along Radical Road, just west of Port Dover, for $1.2 million.
The big gates went up a couple of years later. Interest revived, though, when a legion of earthmoving machines began turning a steep Lake Erie cliff into a tiered seawall and gently-graded private beach.
The president of the numbered company, Scott Biddle, denied he was building a summer home for any singing celebrity, Crocodile Rocker or teenaged heart-throb.
But Biddle, who heads a trucking and farm processing business, didn't go out of his way to clear up the mystery Tuesday. "I'd rather not talk about it," he replied to a question about his plans for the property.
If all the rumours are true, Sir Elton has seriously dented his bank account buying up small-town Ontario properties in Cobourg, Stouffville, Port Stanley, Caledon and Brighton — as well as an island in Prince Edward County — since about 2009.
John's representatives have publicly squashed at least a few of those rumours over the years, but The Spectator wasn't able to reach his publicist Tuesday.
Most of the rumours are linked to the singer's Toronto-born partner, David Furnish, who has family and educational connections to any or all of those communities. Or maybe not.
The Spectator found plenty of residents who had heard the Elton John rumour, but few with a clear idea of why Captain Fantastic might want to call Port Dover home.
"I've heard so many things about that property. It was supposed to be a private golf course, then it was Elton John living there, or another hockey player," said Cameron Crimless, who thought there might be four former NHLers living within a 20-minute drive of the town.
Port Dover Councillor John Wells would love to be able to boast about a famous rock star resident.
He's not convinced he'll get the chance, though.
"I'm pretty sure the Elton John rumour isn't true," said Wells, who added he understands the Biddle family plans to use the lakeshore property for themselves. "But maybe we'll see him out on a (motor)bike for Friday the 13th. I think that's our best bet."
COMMENTS
There aren't any comments yet.
Comments are closed.