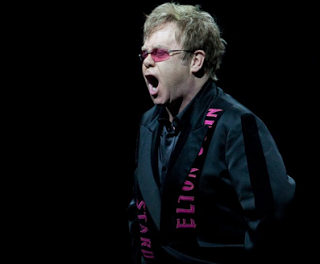 Elton John was booed during his Friday show at Caesars Palace after repeatedly losing his temper and throwing a stool and water glass across the stage.
During one of his outbursts at the Colosseum, the Rocket Man exploded, saying "somebody in my production team is (bleeping) fired," a backstage spy told the Review-Journal.
"He made an ass of himself," said the source.
The 65-year-old six-time Grammy winner started his show 20 minutes late and ended it 25 minutes early, according to the source.
Stagehands were seen mopping up water after each of John's outbursts. Booing erupted after the fourth time he threw his water glass.
His tantrum may have been costly. The show was being filmed by almost a dozen cameras. A dancer posted a tweet on her Twitter feed saying she was shooting a video with the singing legend.
After singing the finale, "The Circle of Life," John left the stage immediately, according to the eye witness.
"Not a word to the audience or a thank you to the band," he said.
COMMENTS
There aren't any comments yet.
Comments are closed.