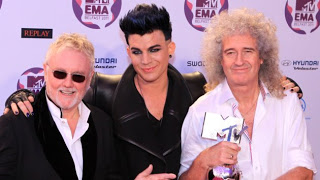 Queen's July 7 performance with Adam Lambert at the UK Sonisphere Festival may have been canceled, but drummer Roger Taylor says his band now has plans to play a total of four shows this summer with the former American Idol finalist. Taylor tells Billboard.com that, in addition to a previously scheduled June 30 concert in Moscow, Queen and Lambert will perform in Kiev, Ukraine, at a show that also will feature Elton John, and will also play a pair of gigs at London's Hammersmith Apollo club in early July. No dates for the latter three shows have been announced.
"We're really excited about it," Taylor says of the concerts with Lambert. "Adam…of course he has this unbelievable range, like Freddie [Mercury]…He's an extraordinary singer and a real talent. I feel he fits into our sort of theatricality."
Meanwhile, Taylor says he and Queen guitarist Brian May will appear on American Idol on April 25 and 26 to introduce the band members of the officially sanctioned Queen Extravaganza tribute tour. Taylor explains that while he originally had spearheaded the project mainly by himself, May has "now climbed on board."
Taylor also reveals that he will travel with the Queen Extravaganza "for the first period of touring, fine-tuning it for the first number of shows." However, he's not planning to perform with the tribute musicians because he wants the concert "it to stand on its own."
The Queen Extravaganza Tour kicks off May 26 in Quebec City and will make 25 stops throughout North America.
Lambert was asked about meeting Elton John at an Oscars party.
"It was really nice to meet him for the first time actually at that party. He was really great, he's super down to Earth. Really kind of a dirty sense of humor, which I do appreciate," he said.
COMMENTS
There aren't any comments yet.
Comments are closed.