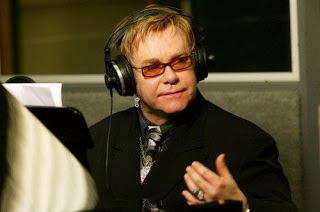 Elton John is a no good dirty lyric stealer — at least according to a self-proclaimed "award-winning" photojournalist and songwriter, who claims Elton coldheartedly ripped off the lyrics to the hit song "Nikita."
The man behind the accusations — named Guy Hobbs — filed the lawsuit in Illinois federal court, claiming he wrote a song called "Natasha" back in 1982 based on his affair with a Russian cruise ship waitress … and three years later, Elton jacked his idea.
According to the lawsuit, Guy copyrighted the song and circulated the lyrics to multiple publishing companies — including Big Pig, which solely publishes Elton John songs — but he never heard back.
In 1985, Elton John released "Nikita" — and Guy claims the lyrics bear "significant similarities" to "Natasha" … even though "Nikita" is about a GERMAN female border guard. Hobbs doesn't specify exactly which lyrics were allegedly stolen.
Now, nearly 30 years later, Guy is suing for copyright infringement — demanding unspecified damages.
As for what took him so long to sue — Guy says he's been living in Africa since 1984 … and news travels slow over there.
A rep for Elton and Bernie have released a statement … saying they "do not know the plaintiff, nor did they make use of any song lyrics he claims to have written when they wrote 'Nikita.'"
The rep continues, "In short, the suit is completely meritless. The fact that Hobbs has chosen to wait more than 26 years after the release of "Nikita" to bring this lawsuit calls his motives into question. Sir Elton John and Mr. Taupin fully expect to prevail against this baseless claim."
COMMENTS
There aren't any comments yet.
Comments are closed.