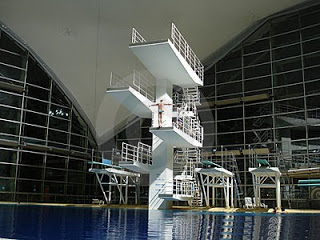 In recent years, Elton John has returned to his musical roots – reviving characters from previous albums (The Captain and the Kid), recreating the rootsy vibe of his Tumbleweed Connection era (Peachtree Road), and cutting an album with longtime hero and early Seventies touring partner Leon Russell (The Union).
With his just-completed new album, John revisits another storied part of his past – the piano-bass-drums trio format heard on classic early records like the live 11-17-70. The result, says John, is "the most exciting solo record I've done in a long, long time." Called The Diving Board, the album was written and recorded in a matter of weeks in Los Angeles and produced by T Bone Burnett. "It was T Bone's idea to get back with piano, bass and drums," John says. He said, 'Let's start with that.'"
Backing John are Raphael Saadiq on bass and Jay Bellerose (who played on The Union and has worked with John Mellencamp, Ray LaMontagne Robert Plant and Alison Krauss) on drums. On two tracks, the trio is augmented by guitarist Doyle Bramhall. Although John was scheduled to start cutting a new disc, he admits he wasn't initially jazzed about the idea, no matter the style. "I was due to go back into the studio, but I didn't know whether I wanted to go back in so quickly (after The Union)," he says. Even after longtime collaborator Bernie Taupin handed him a stack of lyrics, John wasn't sure. "I was on holiday and I didn't even look at them," he says. "But I said, 'I'll go into the studio and if it doesn't work out, it doesn't matter.'"
John himself picked the backup musicians, especially Saadiq, who played at John's annual AIDS Foundation benefit in Los Angeles in 2009. "I wanted to go with Raphael," he says. "He's such a great bass player and he plays all sorts of music. I love his albums." To his surprise, John's creativity went into hyperspeed; he wrote six songs a day in two days, cut them in a mere four and picked 10 for the final track list. "It just came flooding out," he says. "Quickest record I've ever made." John's enthusiasm about the project is palpable: "I'm as psyched about it as I was with The Union," he says. "As I said with The Union, I had to go back to go forward, and it's the same with this record."
The Diving Board is set for a fall release.
COMMENTS
There aren't any comments yet.
Comments are closed.