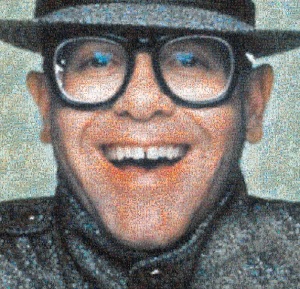 An image of Elton John's face comprising thousands of Gaydar users' profile pictures is among the works in a collection celebrating LGBT History Month.
The Steve Rosenthal portrait will be part of 'Gaze', an exhibition of images of inspirational figures from the gay community including a specially-commissioned portrait of Lady Gaga.
The computer-generated Elton John image is made up of the profile pictures of men who visited Rosenthal's Gaydar profile between 2007 and 2009. Rosenthal has also created images of Rudolph Valentino, Rock Hudson and Anthony Perkins, David Bowie and George Michael in the same way.
In an interview with The Pandorian, Rosenthal said he had decided "to catalogue the users who left a visible track, or rather who did not actively erase evidence of their visit to my page in my 'friends' drawer". He added "I had for a long while been making works primarily from text, and I imagined I might perhaps appropriate text from their profiles.
It wasn't until 2009 that I decided to use the information in such a way that has led to the creation of these works." Gaze will also feature new works by street artists Max Wiedemann, T.Wat, Stik, Don and Alec Monopoly as well as by acclaimed artists including David Shillinglaw, Gonny Glass, Charlie Anderson and Ian Hodgson.
A black and white portrait of Lady Gaga by street artist Bungle will also be displayed. Fra Francis Taloen, curator of the Gaze collection said: "Gaze aims to reach beyond the gay community by getting together gay and straight artists from all walks of life and styles – from traditional portraiture to graffiti, glass and multi-media – while also challenging people's perception of what actually makes a gay icon.
"Taking inspiration from movies, record covers and popular culture in general, Gaze will showcase contemporary British art at its best."
Gaze will be on display at The Collection in London's Kensington from 1-12 March.
COMMENTS
There aren't any comments yet.
Comments are closed.