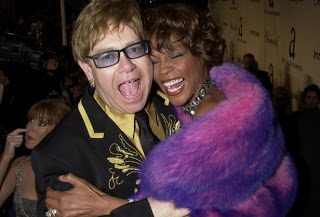 British singer/songwriter Elton John is one of several high-profile performers invited to attend Whitney Houston's funeral, tomorrow. Beyonce, Jay-Z and Oprah Winfrey will also attend the service at New Hope Baptist Church in Newark, New Jersey.
Aretha Franklin and Stevie Wonder will reportedly sing at the ceremony. Houston's cousin, Dionne Warwick, will contribute, as will her musical mentor Clive Davis. No one without an invitation will be allowed near the building and fans have been urged to stay home, the BBC report.
The funeral will be shown live on US television after the Houston family agreed to have a single video camera inside the church. The ceremony will also be streamed on the BBC News website at 12:00 EST (17:00 GMT).
– Pinkpaper
RumorFix has learned that Sir Elton John will NOT be attending Whitney Houston's funeral on Saturday. A representative for the renowned pianist tells RumorFix that she's not sure why that information is circulating, but it's inaccurate.
COMMENTS
There aren't any comments yet.
Comments are closed.