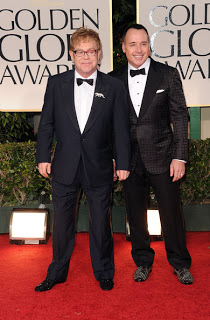 Elton John tested the agility of the US censors before the Golden Globes show began on Sunday, using an obscenity when describing Madonna's chances against him in the best song category.
Speaking on the red carpet, the British singer – up for an award for 'Hello, Hello' from Gnomio and Juliet – was asked what he thought of his rivals in the category including Madonna.
"We've got a lot of competition. …. Madonna hasn't got a (silence)," he said, as NBC apparently used its several-second broadcast delay to edit out the offending word.
Laughing, the interviewer joked: "Those are fighting words."
"No, they're accurate words," replied the star, to more laughter.
It was not immediately clear to TV viewers exactly what he said, but a few minutes later, the interviewer was talking to Madonna, and told her about Elton's bleeped-out comments – shortening the offending word.
"He had a choice word about you … He said you don't have an F-ing chance," he told Madonna, who is nominated for 'Masterpiece' from W.E., the film she also directed about Britain's King Edward VIII and US divorcee Wallis Simpson.
"Oh damn him," Madonna said, adding: "May the best man win."
The comments came a short time before the Globes show began, with British comic Ricky Gervais hosting for a third straight year, despite ruffling some feathers last year.
Gervais said on Twitter on the eve of the show that there was "probably" a seven-second delay on the broadcast.
"Seven-second delay is the latest rumor. True?," one fan asked Ricky. "Probably," he tweeted back. "There was last year. It's in case anyone accidentally swears."
Madonna went on to beat John for the best song award.
COMMENTS
There aren't any comments yet.
Comments are closed.