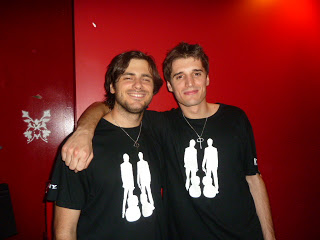 2CELLOS, the Croatian duo who have been on tour with Elton and the band, have astonished the world with their cello-only version of Michael Jackson's Smooth Criminal.
Now the duo – Stjepan Hauser and Luka Sulic – are set to appear in the episode of Fox TV's GLEE, which airs in the USA on January 31. This episode is a Michael Jackson tribute, and of course 2CELLOS will be performing Smooth Criminal.
Luca and Stjepan will also be appearing on The Ellen DeGeneres Show on January 24, on Access Hollywood on January 27 and on Huckabee on January 28. Also on January 24 they will be featured in Perez Hilton's Perez TV feature. – ej.com
COMMENTS
There aren't any comments yet.
Comments are closed.