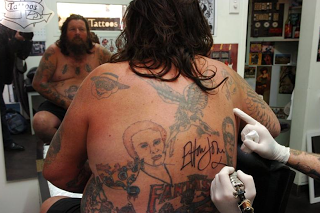 Merv Vessey has a permanent reminder of his first trip to Dunedin – and the Elton John fan could not be happier.
Fans do not come much bigger or more colourful than the 54-year-old quarry worker from Tinopai, in the Kaipara Harbour, who now sports his ultimate accessory – an Elton John signature tattooed on his back.
"I feel great. What a bloody marvellous time."
He has a son called Elton John (34), a daughter called Crystal (31) and a Dunedin-based nephew called Daniel (21) – the latter two named after Elton John songs.
Friday's Dunedin concert at Forsyth Barr Stadium was his ninth live Elton John performance, beginning with a concert in 1974 at Western Springs, Auckland, Mr Vessey said.
"Every time I go to a concert I scream out: 'Elton, please sign my back', and he just laughs and keeps on playing his piano."
The first to take up a seat when the gates opened on Friday evening, Mr Vessey was spotted by one of Sir Elton's staff, who took a photo of his t-shirt which said 'Please sir Elton John Sign my back'.
At 6pm he was told by the staff member that Sir Elton would sign his back but he was not to touch him, talk to him, or take any photographs.
At 8.20pm and just before taking the stage, Sir Elton, "who is a short little bugger", came up and looked straight at him and shook his hand before signing his back.
"He said to me 'That's really great, thanks very much', and I said to him, 'No, thank you very much'."
For the rest of the concert, Mr Vessey leaned forward in his seat for fear of smudging the autograph. He had a sleepless night, then on Saturday morning visited North Dunedin tattooist Silas Waring, of Painter Rock Tattoo, who made the signature permanent.
"This is the ultimate. This is the icing on the cake for me," he said.
Mr Vessey's back also features a 1976 tattoo of the cover of Sir Elton's Captain Fantastic and the Brown Dirt Cowboy, which cost him $15,000.
And he has a car nicknamed "Rocketman" which is emblazoned with every album cover the artist has released.
He is now planning to travel to Las Vegas to watch Sir Elton perform again.
COMMENTS
There aren't any comments yet.
Comments are closed.