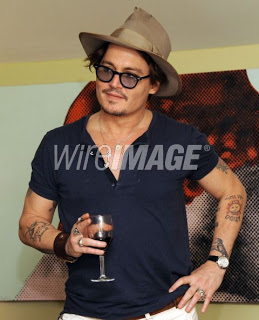 Johnny Depp and Sir Elton John have sparked rumours they are working on a project together after they enjoyed an evening out.
The Hollywood star and the British musician dined together at West Hollywood restaurant Madeo on Monday. They arrived separately, but met up inside to enjoy some food.
The pair were deep in conversation throughout their meal, before exiting the eatery at different times.
The pair aren't thought to be close friends, so there is speculation they were discussing a new project. Johnny has several movies lined up at the moment, including 21 Jump Street, Dark Shadows and The Lone Ranger. None of them require him to sing though, although rumours have begun that he may be planning to show off his vocal talents again.
Movie fans have been quick to suggest Elton was discussing his new biopic with Johnny. He and his partner David Furnish are in the process of putting together a movie about the musician's life, called Rocketman.
Following their evening together, many wonder whether Elton wants Johnny to play him in the picture.
Ewan McGregor has already confirmed he would be interested in the role. He stunned with his rendition of Your Song in Moulin Rouge! and would relish the opportunity to tackle more of the singer's hits.
"That would be great, I'd like to play Elton John," he recently said.
David recently discussed the planned movie, explaining Elton is so happy at the moment he felt it was the perfect time to work on it.
"We've always thought there was a wonderful cinematic opportunity to tell Elton's life story," he said. "But we wanted to wait until the time was exactly right. Elton feels very excited about doing it now. He's in a very happy place in life right now and thinks it's a good time to artistically reflect on the past."
COMMENTS
There aren't any comments yet.
Comments are closed.