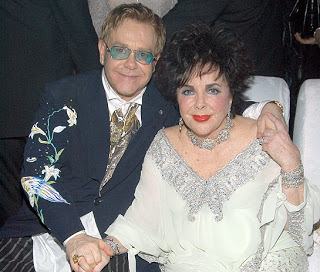 It was, in his own words, a classic case of "boy meets girl, and boy pesters girl with too many phone calls at inappropriate hours of the night".
In the last 18 months of her life, Elizabeth Taylor struck up a surprising but strong friendship with Colin Farrell.
"I was just lucky enough to become her friend," the Irish star said after her death. "I adore her… still."
The unlikely pair became so close during their brief friendship, that Colin was was first choice to host a touching memorial service for the silver screen icon at the weekend.
He joined 400 people, including the movie legend's family and close friends, to pay tribute to the star at the private affair.
The 75-minute celebration was held on the Warner Bros lot in Burbank and attended by Elizabeth's children as well as Sir Michael Caine and Sir Elton John, who sang a moving rendition of Blue Eyes.
"To say that the world got smaller, emptier, darker and lonelier when we lost Elizabeth is an understatement," Elton told guests.
"She was a true rock, a pioneer, a pathfinder, a trailblazer and a star who will always burn bright and always had time to laugh at herself."
Throughout the ceremony, Elizabeth was fondly remembered as those closest to her shared memories from her rich and colourful life.
One particularly moving moment came when her grandson Rhys Tivey – son of Liza Todd-Tivey (nee Todd-Burton), Elizabeth's daughter from her marriage to Michael Todd – played a trumpet rendition of Amazing Grace, a favourite of his grandmother's.
A touching video tribute put together by Virginia Woolfe director Mike Nichols was also screened.
Thanking guests for their attendance, Elizabeth's son Michael Wilding said it was especially meaningful to have so many friends on hand to celebrate her spirit.
"My mother was an extraordinary woman whose life touched so many, most of whom we will never know," he said.
"Our whole family is extremely proud of her accomplishments, and know what a unique and special experience it was to have her in our lives.
"Today it was especially meaningful for us to be with so many good friends to celebrate her spirit, which will be with us forever."
Two-time Oscar winner Elizabeth was 79 when she passed away on March 23 in Los Angeles.
Her funeral was held days after her death – in true Hollywood style, she had requested she arrive 15 minutes late – and she was interred at the Great Mausoleum at the Forest Lawn Memorial Park near her close friend Michael Jackson.
COMMENTS
There aren't any comments yet.
Comments are closed.