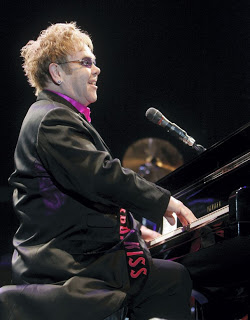 Elton John and his band will return to Honolulu's Blaisdell Arena on Friday, January 6th at 8pm, performing their "Greatest Hits Live" concert, featuring number one chart hits and classic album tracks from throughout Elton's incredible five-decade career.
The public on-sale will begin Saturday, October 29th at 9am.
Elton John's band includes Davey Johnstone on guitar, Bob Birch on bass, John Mahon on percussion, Nigel Olsson on drums, and Kim Bullard on keyboards. One of the most successful live acts on the road today, Elton and his band put on the kind of show you will never forget: the entire audience standing, dancing and singing along with much-loved classic songs such as "Your Song", "Daniel", "Rocket Man", "Bennie and the Jets" and many, many more.
"The Blaisdell Arena is ecstatic to have Elton John return to the stage in Honolulu," said John C. Fuhrman, Events and Services Manager of Blaisdell Arena, "January 6 th will be quite a treat for our audience."
The monumental career of international singer/songwriter and performer Elton John spans five
decades. He is one of the top-selling solo artists of all time, with 35 gold and 25 platinum albums, 29 consecutive Top 40 hits, and he has sold more than 250 million records worldwide. John holds the record for the biggest selling single of all time, "Candle in the Wind '97," which sold 37 million copies. Since his career began in 1969 he has played almost 3,000 concerts worldwide.
COMMENTS
There aren't any comments yet.
Comments are closed.