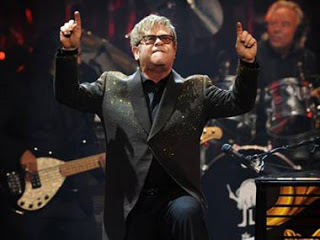 Yes, you've read it right. Sir Elton John's performance fee in Malaysia is more than US$1 million (S$1.3 million).
Confirming the news, an industry source, who spoke to The Daily Chilli on condition of anonymity said: "He is very expensive. And can be difficult to take care of."
Among the pop legend's pet peeves are flowers.
Get this: Elton hates chrysanthemums, lilies, carnations and daisies.
And during his brief stay at a luxurious hotel for his concert, Elton asked for 74 towels to be prepared just for him.
No flowers and sweaty towels aside, the piano man is still worth a date if you're a huge fan of his evergreen hits like Rocket Man, Sorry Seems to Be the Hardest Word, Candle in the Wind, Sad Songs (Say So Much) and Can You Feel the Love Tonight.
So make sure you mark November 22 in your calender of events as Elton descends on the Arena of Stars in Genting Highlands for a one-night concert.
Organised by Tune Live, tickets to Elton John & Band Greatest Hits Tour are priced at RM1,380 (S$561), RM1,180, RM880, RM780, RM480 and RM380 each. (Ticket price excludes RM3 ticketing fee).
Showtime begins at 8pm.
COMMENTS
There aren't any comments yet.
Comments are closed.