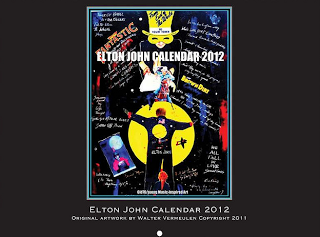 For the 3rd annual Elton John Calendar has been made, containing original Elton John inspired artwork! It contains all the important dates in the amazing career of Sir Elton!
Here is a link where you can see the 2012 calendar:
http://www.flickr.com/photos/14584598@N08/sets/72157627698647272/
The calendar is unofficial, but due to huge demand the calendar has been renewed for this year, 20 percent of the sales will also go to the Elton John Aids Foundation.
Walter Vermeulen is an artist who has produced many highly acclaimed Elton John artworks in the past.
COMMENTS
There aren't any comments yet.
Comments are closed.