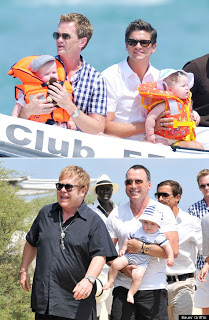 With Kate Moss frequenting the beach club just a few days before, Club 55 in St Tropez is certainly not your average place for a baby playdate.
And it was certainly the scene of a papas and papas days of fun as Sir Elton John and David Furnish and Neil Patrick Harris and David Burthka took their respective broods to the beach club yesterday.
As the singer and his partner fawned over their son Zachary the How I Met Your Mother actor and partner were seen doting on their twins Gideon Scott and Harper Grace.
And given the three children are all under one- year- old they were probably enjoying one of the world's most exclusive playdates.
But while the children were decked out in the cutest of clothing with seventh month old Zachary decked out in a striped romper suit with matching hat while Gideon and Harper, both nine months, were also wearing head protection.
And as the group made their way by tender to the Pampelonne beach club it was safety first for the little tots with all three being kitted out with bright orange life jackets.
It appears the playdate had been pre-planned and How I Met Your Mother star Neil told the New York Post gossip page six that they were always going to meet up with the Rocket Man singer and his family.
Speaking about his twins, who were born in October Neil said: 'I love when they're smiling. That sounds very glib, but for a little while they don't.
'You're just kind of holding and hoping nothing goes wrong and now they're starting to smile.
'Once they start laughing, I'm going to be head over heels for those two.
'Well, I already am, but then I'll think they're laughing at my comedy so I will never leave the house.'
The foursome first met up with all their children in February this year and Neil has often commented on Elton and David's parenting skills.
He told Access Hollywood: 'They're super great parents. They're so fiercely involved in their son's life and it's really kind of great to watch them interact with him.'
And given the location of Zachary's latest playdates he is certainly going to grow up being used to the high life.
Zachary looked incredibly cute in his white and blue striped one-piece with a matching hat as he enjoyed the warm weather.
Meanwhile, Elton and David stayed cool by wearing short and sunglasses as they beamed from ear to ear while introducing Zachary to St Tropez.
COMMENTS
There aren't any comments yet.
Comments are closed.