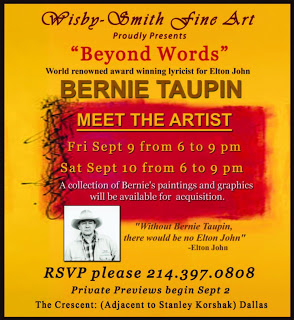 "Without Bernie Taupin, there would be no Elton John"
Bernie Taupin and Elton John. A forty year collaboration that continues…and unlike any other the music world has ever seen.
According to Elton John, "Without Bernie, basically, there wouldn't have been an Elton John. I mean, without that stroke of good fortune and kismet as it were, Elton John probably wouldn't have happened. I'm just a purveyor of Bernie's feelings, Bernie's thoughts."
Wisby Smith Fine Art is deeply honored to present, in its Dallas, Texas premiere, an extraordinary collection of artwork created by Mr. Taupin, whose creative passions have allowed him to equally master yet another form of artistic expression…and that is the other artist in him, the one with the brushes and paints; the one that creates emotive canvases. Contemporary works of art that dually speak to one's intellect and one's emotions: rich in color and expression… a cryptic social commentary captured in multi-media form.
Dallas, Texas: June, 2011: Wisby-Smith Fine Art, Dallas' premier Fine Art Gallery, presents "Beyond Words", an extraordinary collection of contemporary artworks by legendary songwriter and lyricist Bernie Taupin for what promises to be the single most important art event of 2011 in Dallas.
Beginning on Friday, September 2nd, 2011, the public will be able to preview the artwork at Wisby-Smith Fine Art located at the Crescent in Dallas. Exhibition previews will run from September 2nd through September 9th, with special appearances by Bernie Taupin on Friday, September 9th from 7-9 pm and Saturday, September 10th from 6-9pm.
Taupin describes his art: "Canvas to me is simply the visual extension of what I have spent my life creating through words. The imagination, in my estimation, is the most powerful tool the artist possesses enabling us to conjure up beautiful distraction for the ears and eyes.
I have no formula except that which comes from what I dream, feel and see. To me colors are like words…they express emotions…likewise texture and mediums display an abundance of moods."
For years Bernie Taupin has extended his art beyond his lyrics and onto the canvas. Through painting, Bernie has expanded his artistic horizons into frontiers where words have given way to his broad palette of color, where timing and cadence once served, now texture and the gesture of his brush bring his vision into a new dimension.
Gallery Location:
Wisby-Smith Fine Art
The Crescent 500 Crescent Court
Dallas, Texas 75201
www.wisby-smith.com
ARTIST APPEARANCES:
Fri, September 9th 2011 6pm – 9pm
Sat, September 10th, 2011 6pm – 9pm
Exhibition Period: September 2nd – September 10th
COMMENTS
There aren't any comments yet.
Comments are closed.