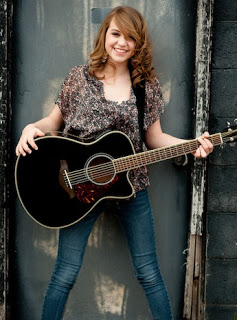 Riley Biederer is a 15 year old singer/songwriter from Cumming GA and is a freshman at West Forsyth High School. In less than 15 months, she has attracted the attention of music industry professionals in Nashville and Atlanta and recently completed her first demo recording with Matt Still, a Grammy winning producer who has worked with Elton John, Rod Stewart, Outcast, BB King, Fat's Domino, Fleet…wood Mac, and many others. Former Creative Directors from EMI and Universal (Bruce Birch and Scott Gunter) have both indicated she has a special talent and expect big things from her.
Producers of major artists have indicated she's the total package, with strong songwriting ability, a great voice, a fearless stage presence and a "look" that keeps people coming back for more. She has met personally with Elton John and his Manager Johnny Barbis and they think big things are possible for Riley. She plays both acoustic guitar and piano and writes songs that belie her age. In the last year she has performed at the Bluebird Cafe in Nashville, opened for Von Grey at the Crimson Moon in Dahlonega, sang the National Anthem at an Atlanta Hawks game, sang the opening song for the national Orange conference in front of 6000 people at the Gwinnet Arena, and been a featured artist for Northpoint Ministries, regularly performing in front of 1000-2000 people on a hig production value stage with with a full band, lights and video behind her.
At age 15 she has already been to Nashville 5 times and has had co-writing sessions with prominent songwriters who have penned number one hits. A prolific singer songwriter who produces a new song every 4-5 days, she has recorded and played over 35 original songs in open mics and gigs all over North GA. Already playing full three set paid gigs as a solo artist that regularly include 20-25 original songs, she has built a strong local following with middle school and high school students and their families in North metro Atlanta. She has been the featured artist of the month on openmicatlanta.com and has appeared in professional singer/songwriter showcases and performed on the main stage at the Cumming City Fair.
Riley gave up a promising future as a gymnast (where she has been a state gymnastics champion in Floor Exercise and Vault) to pursue a career in music. Unsigned at the moment, she has the attention of several prominent producers and managers high profile industry professionals think it's just a matter of time for Riley.
When her schedule permits, Riley can usually be found one night a week at a local open mic venue and typically plays a set or gig once a weekend somewhere in north Georgia. She is actively looking for solo gigs or opening gigs for private parties and restaurants, clubs and other music venues. She will bring her own gig set up when required.
Riley is a singer/songwriter from Atlanta, USA, with a voice bigger than her ex-gymnast's frame and a resume beyond her fifteen years. Since winning Georgia state titles in the vault and the floor exercise, she has been focusing exclusively on her music. In addition to writing prodigiously on her own, she has collaborated with some of Nashville's most respected songwriters – including Brett James (Carrie Underwood, Kenny Chesney) and Bob DePiero (Brooks and Dunn, Tim McGraw) – and recorded with producer/engineer Matt Still (Elton John, Outkast). She is currently writing and recording songs in Nashville and Atlanta for her debut album.
COMMENTS
There aren't any comments yet.
Comments are closed.