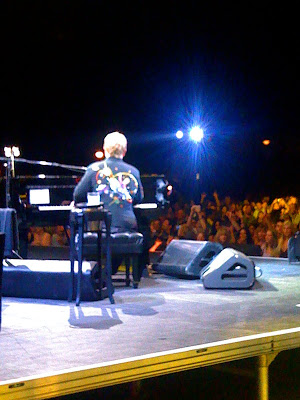 Elton John is once again out on the road, supported by his full band and, this time, additional musicians. His links with Yamaha go much further than his piano, with the company's mixing consoles a long-term fixture on his live shows.
The Rocket Man's 2011 touring schedule is taking in the UK, Europe, Asia, Canada and the US, before settling in Las Vegas for a month-long residency, after which it's off to Russia, the Ukraine, Australia, New Zealand and Asia again.
The shows feature Elton's five-piece backing band plus backing vocalists. In addition, a pair of cellists – Luka Sulic and Stjepan Hauser – have been added for the current run of dates and percussionist Ray Cooper joins the ensemble for the Vegas shows.
One thing that has not changed from previous tours is the Yamaha mixing consoles at the front of house and monitor positions, a PM5000 and PM1D, manned by Matt Herr and Alan Richardson respectively.
"Elton's long-time front of house engineer Clive Franks retired last year, but I had been working with him for about eight years and already had plenty of experience in mixing the shows, so I was happy to step into his shoes," says Herr. "It made for a seamless transition when Clive decided to 'come off the road'."
The tour's audio equipment is being supplied by Clair Bros – as it has since 1972 -and Herr was content for the tried and tested Yamaha combination to remain.
"Alan has been using the PM1D since it came out and Clive used the PM5000 with Elton for a long time. I did think about moving to the PM1D, but in the end I thought 'if it ain't broke, don't fix it'," says Herr. "I like the PM5000 and Elton's shows are all about a real band playing real instruments, so I think the shows deserve an analogue sound."
The monitor setup combines wedges and in-ears, with Alan Richardson using only the PM1D'sonboard effects, while at FOH Herr uses a limited amount of outboard. "It's basically a Lexicon480, a couple of harmonisers to spread the sound of the backing vocals and a couple of delays on Elton's vocals," he notes.
One challenge of mixing the shows presented itself early on, but Yamaha came up with an immediate solution.
"Elton has four wedges, two with vocals and two with a full band mix, which he likes to have at around 120-122dB A-weighted at the ears. It's not the sort of place that most people want to be during a show," says Herr. "When the cellists came in, we started off by miking their acoustic cellos, but the onstage levels were causing problems with drowning them out. So we approached Yamaha, who provided a pair of SVC110 Silent Cellos. The cellists were sceptical at first, but they were won over as soon as they tried them.
"Incorporating the cellos into the mix has added a new dimension to what is a great rock 'n' roll band. Before we've done string parts from keyboards, so live strings brings something extra and has made me go back to basics with how I mix the show. It's been a good experience."
COMMENTS
There aren't any comments yet.
Comments are closed.