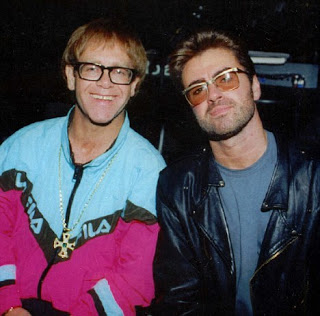 Sir Elton John has thanked his pal George Michael after the singer announced he is handing over the proceeds from one of his upcoming tour dates to the Rocket Man's Aids charity.
The Faith hitmaker is heading back out on the road for a series of European orchestral concerts, and last month (May11) he revealed he will be dedicating a show to late actress Dame Elizabeth Taylor, who was an active campaigner for Aids charities.
Michael has now confirmed his gig at London's Royal Opera House in November (11) will raise funds for Sir Elton's latest charity venture – a fund set up in Taylor's name following her death in March (11).
The veteran star created the Elizabeth Taylor Memorial Fund as part of his Elton John Aids Foundation in honour of the Cleopatra star and Michael is handing over all money raised from the gig to his pal's initiative.
Sir Elton has now thanked Michael for the gesture: "George has been a patron of the Foundation since its inception and has been a much valued supporter over the years, as well as a dear friend.
"This is an incredible and generous gesture. I thank George from my heart for doing this. His is an amazing talent, and this is a fantastic gift he is making to people affected by Hiv."
Michael adds, "I have seen how Hiv can affect people's lives, how it can destroy families and communities.
"The way that the Elton John Aids Foundation gets help to the people around the world who need it most – often the most marginalised communities – really spurred me on to do something. I wanted to honour the inspiring efforts that Elizabeth Taylor made – especially in the early years of the epidemic."
COMMENTS
There aren't any comments yet.
Comments are closed.