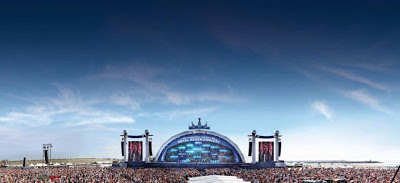 Royal Beach Concert, the annual event where sun, sand and greatest hits central, today confirms the first two headliners. Elton John and the Golden Earring make their debut on Saturday, June 4 at the second edition of the Royal Beach Concert on the beach of Scheveningen. Also launching today the sale of tickets for the concert that last year attracted over 45,000 visitors.
Elton John was the last time in 2009 in the Netherlands. Royal Beach Concert this year is the only concert he will give in the Netherlands and Belgium. Golden Earring was already a big concert in Scheveningen beach, in honor of their 25th anniversary in 1986. Besides these two top acts, other artists on June 4 entered the stage in Scheveningen. These names will be announced later. Royal Beach Concert is this concert has become a major international artist.
Tickets for the Royal Beach Concert are available today through Ticket Point and range in price from € 58.50 (Block A), € 89.50 (Block B) to € 125.00 (Golden Circle).
www.royalbeachconcert.nl
Elton John is performing at the Wells Fargo Theatre on Tuesday, April 12 to benefit the Matthew Shepard Foundation, founded by Dennis and Judy Shepard in memory of their 21-year old son, Matthew, who was murdered in an anti-gay hate crime in Wyoming in October 1998. Tickets ($49-$149) go on sale this Saturday, March 5 at 10 a.m.
– Westword
After an incredible sell out of the May 11 performance in Regina, SK, Elton and his band have announced a second concert at Brandt Centre on Thursday, May 12."The Wednesday, May 11 concert sold out in record time," says Neil Donnelly, Vice President, Events & Entertainment, Brandt Centre. "Elton John evokes frenzied passion in his fans like no other artist. We are privileged to welcome Elton John to Regina for a second concert."
COMMENTS
There aren't any comments yet.
Comments are closed.